Muslim Groups Raise Over $74,000 for Victims of Pittsburgh Synagogue Shooting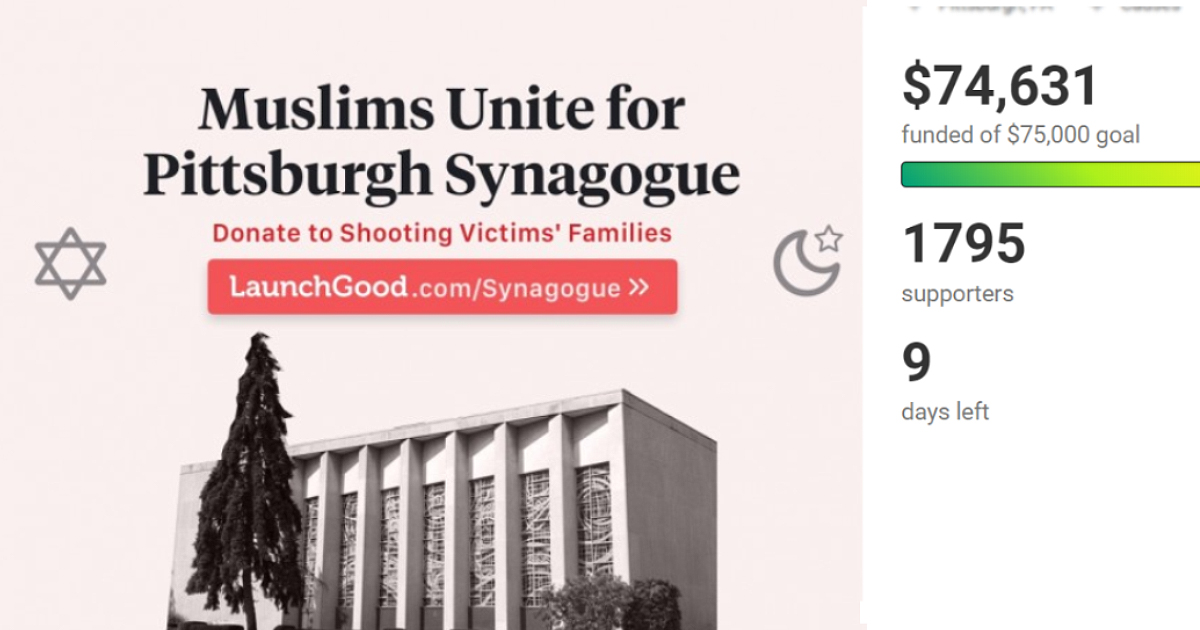 The campaign is titled "Muslims Unite for Pittsburgh Synagogue" and it is a fundraiser for the victims of Saturday's horrific mass shooting at the Tree of Life synagogue. The fundraiser was created by Muslim groups Celebrate Mercy and MPower Change, two titles that fittingly encapsulate their effort here.
As The Hill reported earlier on Sunday, the two non-profits are partnering with the Islamic Center of Pittsburgh to distribute the funds raised to the victims and the families of victims of the hate-driven shooting.
On the fundraising page, the organizers state that "the Muslim-American community extends its hands to help the shooting victims, whether it is the injured victims or the Jewish families who have lost loved ones."
"We wish to respond to evil with good, as our faith instructs us, and send a powerful message of compassion through action, the site reads. "Our Prophet Muhammad, peace be upon him, said: 'Show mercy to those on earth, and the One in the Heavens will show mercy to you.' The Quran also teaches us to "Repel evil by that which is better" (41:34)."
The initial goal of $25,000 was met in just six hours, prompting organizers to raise the goal to $50,000. That, too, was met rapidly, and it was raised again to $75,000 which, at the time of this posting, is also almost met.
"Though this is a Muslim-led campaign," say the organizers, "we welcome friends of all faiths to contribute."
You can read more or participate here.
[Featured image via screengrab]
—
Follow Caleb Howe (@CalebHowe) on Twitter
Have a tip we should know? tips@mediaite.com