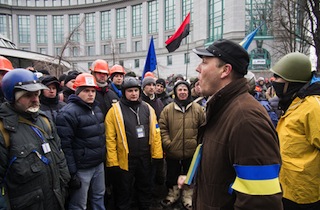 Every a.m., Mediaite publishes a primer of what the interweb machine is writing, talking, tweeting, and blogging about, so that you may fool friends and family into thinking you are a trove of information and insight. Today: everything you need to know about the situation in Ukraine, from the warships the French are (still) selling the Russians to the complex cultural history of the region to the books that give Vladimir Putin his ideas.

"Russia Says Can't Control Crimea Troops Ahead of U.S. Talks" (John Irish and Timothy Heritage, Reuters)
Russia is still insisting the soldiers in unmarked uniforms currently occupying the Crimean peninsula are not Russian troops but Crimean self-defense militias. "'If you mean the self-defense units created by the inhabitants of Crimea, we give them no orders, they take no orders from us,' [Russian Foreign Minister Sergey] Lavrov told a questioner at a joint news conference with his Spanish counterpart in Madrid."
This claim nearly knocked Secretary of State John Kerry over at a press conference yesterday.
"French-made Warship Destined for Russia Sets Sail" (Associated Press)
Um, awk: "A French-built warship designed to strengthen Russia's ability to deploy troops, tanks and helicopter gunships is getting its first test run Wednesday — just as Western powers are trying to rein in Russian President Vladimir Putin's military threat to Ukraine." France has no plans to cut off the deal, even as it criticizes Putin's naval excursion off the coast of the Crimean peninsula.
"Ukraine, Putin, and the West" (n+1)
The editors at n+1 have an informed breakdown of the larger historical, cultural, economic, and linguistic contexts leading up to the current Ukrainian crisis, and why the west continually misunderstands what happens there. One example of many:
There's a reason Ukraine is at the heart of the most significant geopolitical crisis yet to appear in the post-Soviet space. There is no post-Soviet state like it. Unlike the Baltic states, it does not have a recent (interwar) memory of statehood. Nor, unlike almost every other post-Soviet state aside from Belarus, does the majority population have a radically different language and culture to distinguish itself from the Russians. In many cases, for these countries, the traditional language suggests a natural political ally—Finland for the Estonians, Turkey for the Azeris, Romania for the Moldovans. These linguistic and cultural affinities are not without their difficulties, but they do give a long-term geopolitical orientation to these countries.

[snip] Adding to this difficulty has been the Soviet legacy, which in Ukraine as everywhere else is always and everywhere visible. The Ukrainian historian Giorgy Kasianov has written that Ukrainians are forced to exist in several historical and semantic fields simultaneously: the roads they drive on, the factories they work at, the social relations they engage in—all are part of the Soviet heritage. As in the rest of the former Soviet Union, including Russia, this heritage is crumbling, but in Ukraine in particular it remains formidable.

As a result, Ukraine has essentially been frozen in time since independence…
Read the whole etc.
"Putin Can't Stop" (David Brooks, New York Times)
Meanwhile, David Brooks — yes, that David Brooks — examines the unfortunate confluence of Putin's intellectual foundations, complicating the binary of the Russian leader as irrational tyrant or geopolitical mastermind. This is Brooks at his best:
"All of this adds up to a highly charged and assertive messianic ideology. If Putin took it all literally, he'd be a Russian ayatollah. Up until now, he hasn't taken it literally. His regime has used this nationalism to mobilize public opinion and to explain itself to itself. But it has tamped down every time this nationalistic ideology threatens to upend the status quo.

"The danger is that Russia is now involved in a dispute in Ukraine that touches and activates the very core of this touchy messianism…The Russian nation may be motivated by a deep, creedal ideology that has been wafting through the culture for centuries and has now found an unlikely, cynical and cold-eyed host."
[Image via jbor / Shutterstock.com]
——
>> Follow Evan McMurry (@evanmcmurry) on Twitter
Have a tip we should know? tips@mediaite.com