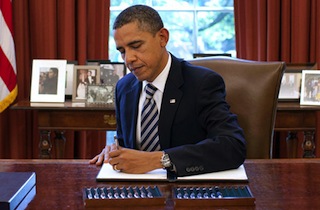 Every a.m., Mediaite publishes a primer of what the interweb machine is writing, talking, tweeting, and blogging about, so that you may fool friends and family into thinking you are a trove of information and insight. Today: vulnerable Senate Democrats don't really want Obama campaigning for them—but new data-driven turnout campaigns may make his presence unnecessary. Plus: the man behind Obama's 2014 executive actions strategy, and why it may be a bad call.

"Democrats Aim for a Presidential Fervor in '14 Vote" (Ashley Parker, New York Times)
Ashley Parker has fascinating details on the Democratic Senatorial Campaign Committee's data-driven strategy for retaining the Senate, one that relies on targeting base voters and surging turnout to more presidential-election levels, rather than pitching expensive TV ads to sway a small slice of independent voters. It's an ambitious and unlikely project that seeks to change the very nature of midterm elections, but this is a team that's pulled off election-day triumphs before. Read the whole etc.
"The White House Obamacare Playbook for Vulnerable Democrats in 2014" (Olivier Knox, Yahoo! News)
Related, Yahoo!'s Olivier Knox gets into how much the White House is engaging with the reelection efforts of Senate Democrats. Namely, fundraising and messaging, but not Obama appearances:
The administration playbook suggests ads featuring women detailing how Obamacare helped them obtain insurance just before they faced a serious threat to their health, underlining benefits like contraceptive coverage, or explaining how the law covered their children for serious but common ailments.

[snip] The Democrats' goal will be to turn the election from a referendum on the struggling president and Obamacare into a choice between his party's policies and those of Republicans.

One thing Obama probably won't do: Appear at campaign events alongside Democrats facing tough reelection fights. Instead, Democrats say, he'll focus heavily on fundraising for the Democratic Senatorial Campaign Committee and Democratic Congressional Campaign Committee.
"How John Podesta is Changing Obama's White House" (Edward-Issac Dovere and Carrie Budoff-Brown, POLITICO)
John Podesta, who was rumored to be coming on as Obama's shadow chief-of-staff, is helping the White House "grow up," according to POLITICO. His impact can be felt on everything from the White House's response to the California drought to the State of the Union to the start time of senior staff meetings. He's also the driving force behind Obama's new executive action-heavy 2014 strategy, a similar tactic to the one Podesta enforced during his term in the Clinton White House.
"Don't Go It Alone, Obama" (Noam Scheiber, The New Republic)
Speaking of that tactic, TNR's Noam Scheiber is skeptical of its political consequences:
Obama's turn toward unilateralism won't help his standing and could easily worsen it. Consider: Chait and I and the White House (if Chait is right) all assume these unilateral maneuvers will be highly limited in their substantive impact. Their only real value is signaling that Obama believes he can exert his will on the economy without Congress and is working really hard to do that. But if that's the effect, then they only exacerbate Obama's dilemma by further persuading voters he has influence over the economy we just agreed he doesn't have.

[snip Instead of forcing the goofy, self-defeating Republicans into the spotlight and making them answer for economic stagnation, Obama's year of doing-things-all-by-my-lonesome has effectively let them off the hook. It makes no sense.
[Image via screengrab]
——
>> Follow Evan McMurry (@evanmcmurry) on Twitter
Have a tip we should know? tips@mediaite.com