Must Reads: Did We All Miss the Most Important Part of the State of the Union Address?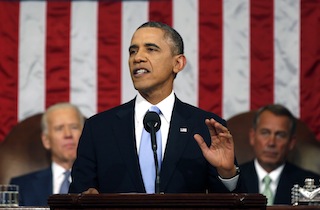 Every a.m., Mediaite publishes a primer of what the interweb machine is writing, talking, tweeting, and blogging about, so that you may fool friends and family into thinking you are a trove of information and insight. Today: what was with that "MyRA" part of Obama's State of the Union? Does Twitter enhance or detract from watching an event like the SOTU? How did a yoga article set the internet on fire? And more.

"Did President Obama's 'MyRA' Proposal Just Solve Two Huge Problems With Retirement Saving?" (Kevin Roose, New York)
The MyRA portion of President Barack Obama's State of the Union kinda flew everybody by, save for a few "My RA let me smoke weed in my room" jokes, but Kevin Roose isolates it as the most important part of Obama's speech:
The president could use an executive order to create a type of safe, low-risk government-backed bond – they called it an "r-bond," for "retirement" – that would earn a low rate of interest and carry a government guarantee. Those bonds would be put into people's retirement savings accounts automatically as they earned money, in the same way that employers withhold a percentage of each paycheck and put it into a 401K plan. Then, once people's starter accounts got big enough that Fidelity or Bank of America were willing to manage them as IRAs, all of those r-bonds could be rolled over into new, private plans, while preserving all the tax advantages that IRAs get.
"The Internet Won the State of the Union, Which Can't Possibly Be Good for Democracy" (Meghan Neal, Vice)
The flipside of those "viewership of the State of the Union hit 14-year-low" stories. You don't have to completely buy Neal's thesis that the "second screen"—that would be Twitter—is inherently inimical to democracy to find this a more fascinating breakdown of the SOTU than most run-of-the-mill commentary out there:
As the gap between TV and the internet closes, the second screen as physical thing could become obsolete. I expect we'll see more split screen experiences like Obama's "enhanced" SOTU—the live event playing on one side and a rapid-fire stream of commentary and reactions next to it.
"xoJane's Embarrassing Yoga Essay and the Problem With 'Honest' Writing" (Michelle Dean, Flavorewire)
It was the yoga essay heard round the world, and by the end of Wednesday everybody had written a piece on it (many of them far, far too long). This one, by Michelle Dean, is one of the better posts (and not incidentally one of the shortest), going beyond the racial phenomenology of the original piece to pose a structural question: "What is the real function of being 'honest' about this in the unprocessed way that Caron's essay was?"
"The Incomplete Guide to Feminist Infighting" (Arit John and Allie Jones, The Wire)
"Feminism's Toxic Twitter Wars," Michelle Goldberg's piece in the Nation, got Twitter going yesterday, as Goldberg no doubt knew it would. The Wire provides background on what is a very important and substantial debate, both about feminism and the role of social media in advancing, or possibly entangling, discourse.
[Image via AP Photo/Larry Downing]
——
>> Follow Evan McMurry (@evanmcmurry) on Twitter
Have a tip we should know? tips@mediaite.com