Must Reads: MLK the Radical, Iran Halts Nuclear Development, Syrian Peace Talks and More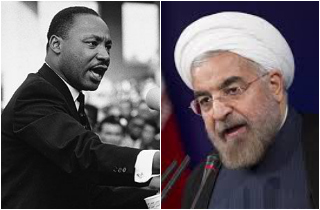 Every a.m., Mediaite publishes a primer of what the interweb machine is writing, talking, tweeting, and blogging about, so that you may fool friends and family into thinking you are a trove of information and insight. Today: remembering MLK's fight against economic inequality; Iran halts nuclear development; the Syrian peace talks haven't even started and they're already in trouble; and more.

"The Radical MLK We Need Today" (Joan Walsh, Salon)
On Martin Luther King Jr Day, Joan Walsh reexamines King's "radicalism," the concern for income inequality and economic injustice that always accompanied his civil rights efforts. Walsh rolls her eyes at the atempts to sanitize King's legacy—and "sanitize" might be putting it too lightly—but she also wisely avoids the "was he a Communist or Republican?!?!?1?!" black hole that fills up so many comments sections. Read the whole etc.
"Iran Freezes Nuclear Work Meeting Terms for Sanctions Relief" (Ladane Nasseri, Golnar Motevalli and Jonathan Tirone, Bloomberg News)
In the first true test of the interim deal negotiated between Iran and the P5+1 nations, Iran has began to halt its development of nuclear material. The tenuous deal was sealed last November by Secretary of State John Kerry, and is meant to give the nations involved a six-month window in which to negotiate a more comprehensive deal. The cessation that began this morning is the first measurable rollback in Iran's nuclear program in a decade.
"U.N.'s Last-Minute Iran Invitation Throws Syria Talks Into Doubt" (Louis Charbonneau and Parisa Hafezi, Reuters)
The date for the implementation of Iran deal comes just two days before the scheduled beginning of peace talks between Syrian rebels and the Assad government, as the UN hopes to end the bloody, three-year civil war. Everybody involved in planning the talks already had their fingers crossed that the relevant parties would even attend, an occurrence thrown into doubt on Sunday when the U.N. invited Iran, a primary backer of Assad's, to the table. Meanwhile, Assad has indicated he will run for reelection, casting doubt the ability of the negotiators to get him to relinquish power as part of the peace talks.
"Media That Moves Millions" (Sheldon Himelfarb and Sean Aday, Foreign Policy)
A study examining the role of social media in Syria's civil war (and elaborating on previous studies of its role in the Arab Spring) found that the rosy claims of social media's contribution to popular uprisings were both overstated and oversimplified. While Twitter et al were handy communication tools, especially for spreading information past borders and generating international awareness, they could just as easily and often be manipulated by oppressive governments; and for all the hopes that social media brought disparate groups together, the researches found that social media actually intensified factions. Worth a full read.
[Image via Rex Features]
——
>> Follow Evan McMurry (@evanmcmurry) on Twitter
Have a tip we should know? tips@mediaite.com