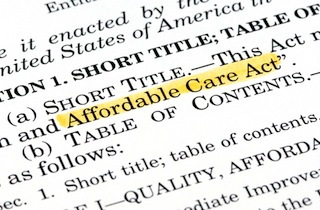 Every a.m., Mediaite publishes a primer of what the interweb machine is writing, talking, tweeting, and blogging about, so that you may fool friends and family into thinking you are a trove of information and insight. Today: with (sort of) less than a week to go before the Affordable Care Act's first open enrollment period closes (sort of), delays are flying, lawsuits are building, politicians are yelling, and the federal exchange is surging. Here's everything you need to know as the process that began with a wonky website back in October finally approaches the finish line.

"Extension of Health Law Signup Period Worries Insurers" (Louise Radnofsky and Anna Wilde Mathews, Wall Street Journal)
The administration's decision to partially-kinda extend the enrollment deadline for the federal ACA exchanges (combined with some states' decisions, as in California and Oregon, to do the same) threw an extra layer of uncertainty into the last days of the enrollment period:
Insurers fear that past-deadline enrollees could complicate efforts to calculate premiums for next year, which will be filed with regulators from this spring. Health plans want to know who has signed up this year and their medical needs, so they can gauge what to charge in 2015.

"The more information that's coming in that we can't use for our [rate] filing because of the time frame, the less accurate and predictive we will be," said Patrick Getzen, chief actuary at Blue Cross & Blue Shield of North Carolina.
This is set against a background of surging enrollment, which many expected to occur before the final(ish) deadline. The administration is racing to reach 6 million enrollees (it has already passed 5 million), and the Wall Street Journal quotes several sources (anonymous, natch) claiming that enrollment has picked up extensively, with 100,000 applications being processed on both Monday and Tuesday (compared to a roughly 33,000 average in previous months).
"Flashback to 2006: When Bush Extended an Enrollment Deadline" (Mark Murray, NBC News)
The delay is being heavily criticized by GOP leaders, but many were quick to remind them that it's notably similar to one enacted in the last days of the Medicare Part D enrollment period under the Bush administration. But as Mark Murray of NBC News points out:
There's one key difference between Bush's Medicare prescription-drug benefit and Obama's health-care law: Democrats didn't try to scuttle the Medicare law's implementation (especially since some of them had voted for it), while the same isn't exactly true of GOP actions regarding the health-care law.
"John Boehner's Hypocritical Griping About the Obamacare Deadline Delay" (Jonathan Cohn, The New Republic)
Jonathan Cohn thinks the delay is much ado about little, and wonders if the cacophony of complaints has more to do with politics than policy:
But, for what it's worth, the Affordable Care Act really did give HHS a huge amount of leeway over how to implement the law—and it did so for a very good reason. Given the inherent complexity of health care, there's no way Congress could have figured out all of the details. It made sense to delegate that authority—to put in place new systems, but leave the nitty-gritty of regulations and transitions to the administration.

For each one of these extensions or delays, the ultimate question is whether they change the law's ability to realize its basic goals—which, in this case, means encouraging people to buy new private health plans while maintaining a stable insurance market. Giving people a little extra time to enroll wouldn't seem to impede this kind of progress. If anything, it would seem to enhance it. And maybe that's what really bothers some of the law's fiercer critics.
"The Lawsuit That Could Still Destroy Obamacare" (Sahil Kapur, Talking Points Memo)
While Hobby Lobby took its objections over the so-called contraception mandate to the Supreme Court on Tuesday, another case, which observers call much more threatening to the core of the Affordable Care Act, snaked its way through an appellate court:
The case is about whether the Affordable Care Act permits the federally-run insurance exchange to provide subsidies to consumers. Crafted by Case Western law professor Jonathan Adler and Cato's Michael Cannon, it charges that the plain language of the statute confines the provision of premium tax credits to "an Exchange established by the State" — and not the federal exchange, which serves residents whose states opted not to build one.
TPM's Sahil Kapur has a good rundown of the legal views on the question, the case's mixed record up until now, and where it might go from here. Hey, who still wants to be arguing about this law a year from now?
[Image via screengrab]
——
>> Follow Evan McMurry (@evanmcmurry) on Twitter
Have a tip we should know? tips@mediaite.com