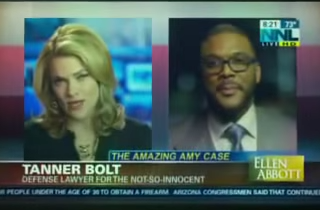 Several different movies this year produced some gripping dark satire of the modern-day news industry, but none perhaps more true-to-life than Gone Girl. The story of a suburban housewife gone missing felt similar to real-life media frenzies of the past few years.
There was, however, one cable news figure in particular that was, rather obviously, parodied in the movie. Missi Pyle played cable news host Ellen Abbott, and the way she interrogated guests and conducted herself on-air was a very clear nod to Grace and how she tackles national issues like this.
So what did Grace think of the parody? Well, she spoke out on the subject in an interview with none other than Pyle herself. Grace professed her love of Gone Girl, said that much of the film was accurate, and, honestly, she didn't mind being parodied like that:
I'm very flattered. I grew up on a red dirt road drinking water out of a well my grandfather dug. So the thought that someone would portray me or loosely base a character off me in a movie is almost more than I can take in. Even though I get poked fun at, I don't mind. I thought I had a favorite portrayal until I saw Gone Girl. That's my new favorite.
Grace also uses the opportunity to address a lot of the criticism she gets for her adversarial style, which she also doesn't really care about. "Be hot or cold," she said. "Don't be lukewarm or I'll have to spit you out. Love me or hate me. Just have an opinion of some sort."
(You can read the full interview here, though there are some plot spoilers.)
[image via screengrab]
— —
Follow Josh Feldman on Twitter: @feldmaniac
Have a tip we should know? tips@mediaite.com
Josh Feldman - Senior Editor