Nancy Pelosi Had A Terrible, Horrible, No Good, Very Bad Time In The Hamptons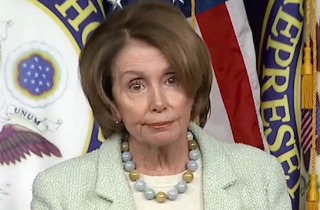 Ah, the Hamptons — that popular weekend getaway just east of Long Island where wealthy New Yorkers and transplanted celebrities spend their time wining and dining. Or to put it another way, that place where rich white people go to GTFO of Dodge.
According to a Page Six report on Monday morning, however, U.S. House minority leader Nancy Pelosi allegedly didn't have such a good time during her weekend stay in the state's eastern most resort. If anything, it seems she was the Col. Neidermeyer to her fellow hotel guests' Animal House.
Pelosi and her security detail stayed at the Capri in Southhampton, "where parties often go well into the early hour," according to the report. In addition to the hotel, the Capri boasts a popular pool and restaurant, thereby making it a hot spot for parties. Hence why Pelosi didn't get any sleep before 4 a.m.
According to a source, "Pelosi told people she didn't get much sleep Saturday night, but she didn't make a fuss or complain to the hotel." Another source said Pelosi had wanted to dine at the hotel's restaurant, Beautique, that night, but arrived without a reservation and they were forced to turn her away.

"She was accompanied by a lot of security. Guests like Howard Stern already had tables," says a spy. We're told the restaurant did put together some room service so she could dine in her room.
Gawker went through a rundown of other places Pelosi could have stayed, exclaiming, "My god, this is the Hamptons. This town was literally designed for old white ladies with money."
Being that I am neither old, female or "with money," I have no idea what any of this means. Instead, I associate more with the members of Pelosi's security detail, who supposedly ate at a McDonald's instead of trying to deal with the crowded restaurants and high prices. Yet this begs the question — why the hell is there a McDonald's in the Hamptons?
[h/t Page Six, Gawker]
[Image via screengrab]
— —
>> Follow Andrew Husband (@AndrewHusband) on Twitter
Have a tip we should know? tips@mediaite.com