Nancy Pelosi 'Prays' Hillary Clinton Runs For President: Most Qualified 'In Modern History'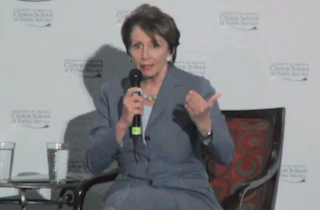 Speaking at the Robinson Center in Little Rock, Arkansas, House Democratic leader Nancy Pelosi addressed the 2016 buzz surrounding former Secretary of State Hillary Clinton. Since Clinton is the most qualified for the job "in modern history," Pelosi said she is seeking help from a higher power in hopes that Clinton will run.
Pelosi told the crowd she didn't have any inside knowledge about what Clinton will decide — but that she should run because she's the best person for the job.
"I pray that Hillary Clinton decides to run for president of the United States," she said, according to the Arkansas Democrat-Gazette, drawing applause. "Nobody has been first lady and senator and now secretary of state. Putting everything aside that she is a woman, she'd be the best qualified person that we've seen [in recent years]."
Clinton's election would be a "lift" for the country, Pelosi added, per the report:
"Think of the message it sends to women in the world," she said. "The most powerful figure in the world is a woman, and she also happens to be the most qualified for the job."

Pelosi reiterated several times that she has "no knowledge of anything except my prayers" with regard to a potential Clinton run.

"Maybe you'll find out tomorrow at the airport," Pelosi said, referring to a dedication ceremony Bill and Hillary Clinton will attend for the airport in Little Rock named after them. "But I don't think so."
For her part, Clinton has remained evasive about whether she'll answer Pelosi's prayers.
(h/t Political Wire)
Have a tip we should know? tips@mediaite.com