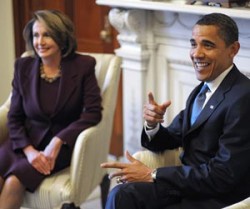 Did Press Secretary Robert Gibbs know he was about to set off a firestorm this Sunday when he "stated the obvious" to David Gregory that there "are enough seats in play" for the GOP to take the House this November? Chances are, yes. This administration if far too media savvy to think a quote like that would do anything but set off a firestorm. Their motivation for doing so, however, remains unclear.
I've noted in earlier posts I thought this was the administration's subtle attempt to have its cake and eat it too. Mediaite's Tommy Christopher thinks this was "stealth attempt to energize the Democratic base, and all those Obama voters who said "Mission: Accomplished" after he was elected." Which also makes sense — a lot of ink has recently been devoted recently to the lack of enthusiasm in Obama's base.
One person who was apparently energized by Gibb's comments was Nancy Pelosi, who apparently called Gibbs "politically inept" during Tuesday night's House Democratic Caucus meeting. From CQPolitics:
Things heated up as Pelosi jumped in and blasted Gibbs for making "politically inept" comments, according to one source…"It was bad," another source said. "She was like: 'I don't appreciate it. I don't know who this guy is. I've never met him before. And he's saying that we're going to lose the House.'"
That certainly sounds energized (also, is it possible Gibbs and Pelosi don't know each other?) The same report says that a White House legislative liaison told Pelosi he "did not think Gibbs' comments were a coordinated statement." What's unclear is whether she believed this.
Meanwhile during a visit to Mission Neighborhood Centers in San Francisco Monday Pelosi was singing calmer tune. She told the audience there that "I don't think there's much likelihood [of Democrats losing control of the House], but anytime the White House wants to lower expectations, that's okay with me." Another theory entirely. Watch Pelosi's remarks below.
Have a tip we should know? tips@mediaite.com