NASCAR Drivers Weigh-In on Protests in Sport's Home City, Charlotte: 'It Makes You Sick to Your Gut'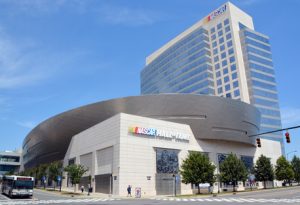 NASCAR has deep ties to Charlotte. Its Hall of Fame is located in the city. (And was vandalized during protests Wednesday night, according to the Charlotte Observer. And almost all of NASCAR's teams are based there.
Friday, several drivers spoke out about the unrest in the sport's home city following the fatal shooting of Keith Scott by police.
"A lot of times when you see things like this happen, it's in a different city and you don't recognize where it's at," driver Joey Logano said to USA Today. "But when you see the NASCAR building getting vandalized and you see areas of the city you know very well with crazy things happening, it makes you sick to your gut. You don't know what to do and you kind of feel helpless."
"For me, it's sad that the country's at this point in time," driver Austin Dillon said at a press conference. "I just hope everybody can look at everything and gather their thoughts, and figure out the right way to fix the problems we have."
Driver Matt Kenseth condemned violence and vandalism at the protests and expressed a desire for peace.
"I don't know enough about what actually happened to start it all," he said. "We're very fortunate to live in a free country, and peaceful protests and demonstrations are OK. Certainly, the violence and vandalism and theft isn't."
Kenseth added that he "just hope it stops."
[h/t NESN]
[image via meunierd / ShutterStock]
–
Follow Joe DePaolo (@joe_depaolo) on Twitter
Have a tip we should know? tips@mediaite.com
Joe DePaolo - Senior Editor