National Labor Relations Board Counsel: Private College Football Players Are Employees, Can Seek Pay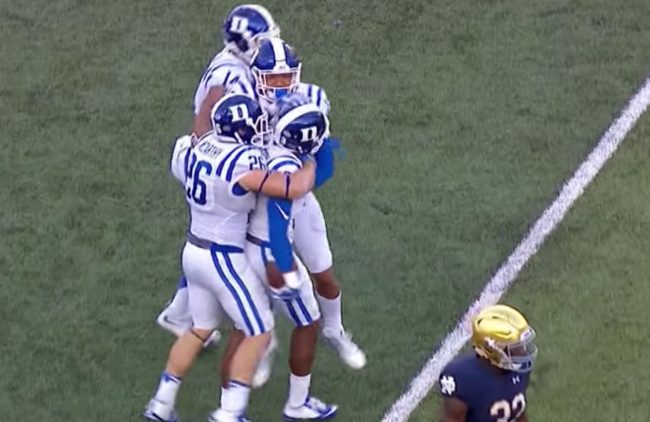 Pictured above are players from Notre Dame and Duke — two of 17 private colleges and universities who compete in the college Football Bowl Subdivision, the sport's highest collegiate level.
A new memo by Richard Griffin, the general counsel of the National Labor Relations Board classifies those players, and others from the 15 other private FBS schools, as employees. The classification paves the way for those players to request improved working condition and even seek pay for their labor.
Ramogi Huma, a leader in this area as the man who looked to unionize Northwestern's football team, told Inside Higher Ed that this was a groundbreaking decision.
"It's definitely historic," Huma said. "By declaring that these athletes are employees, the general counsel is saying that his office is committed to protecting college athletes' employee rights under the labor laws, and I think that can't be understated. It's what the players at Northwestern set in motion, and this is a major milestone."
The NCAA however, is treating it as business as usual.
"The general counsel's memo and personal opinion do not reflect a binding position of the NLRB," NCAA chief legal officer Donald Remy told The New York Times. "As we have stated before and he was obligated to acknowledge, the NLRB previously decided that it would not exercise jurisdiction regarding the employment context of student-athletes and their schools. The general counsel's memo does not change that decision and does not allow student-athletes to unionize."
The long-term implications of this ruling are unclear as Griffin, an appointee of President Obama, concludes his term in November, per the Times. President Trump will choose his successor.
[image via screengrab]
–
Follow Joe DePaolo (@joe_depaolo) on Twitter
Have a tip we should know? tips@mediaite.com
Joe DePaolo - Senior Editor