National Review Scribe: Travel Ban Is Pointless and Dangerous, but Let's Do It Anyway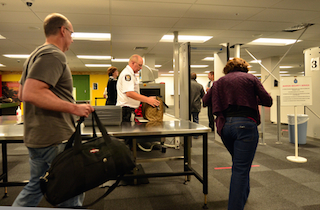 Fox News medical correspondent Marc Siegel came out in favor of a travel ban Thursday, arguing in the National Review that it would be impossible to enforce, utterly pointless, and potentially dangerous. If that sentence makes no sense, you're in the same camp as the rest of us.
Siegel conceded the arguments, well-aired but not yet well-believed, that a travel ban would exacerbate the ebola outbreak by making potential carriers harder to trace, not to mention fomenting panic and distrust in the west African countries where the virus festers.
But, Siegel said, "we must worry about our own public psyche here in the United States. If our leaders can't give us a sense that we are protected, we must achieve it by imposing a ban."
He concluded:
I'm not convinced medically — I don't believe that a travel ban against the Ebola-afflicted countries in West Africa will be particularly effective, it may even be counterproductive, and it certainly isn't coming from the strongest side of what being an American means. But as fear of Ebola and fear of our leaders' ineptitude grows, I think we must have a ban to patch our battered national psyche.
All practical and medical counterarguments aside, imagine the response if an MSNBC employee or Obama administration official advocated the federal government limit literal physical movement for the country's psychological good.
Anyway, just gonna leave this here:
It's that day of the news cycle (ebola) when people start saying batshit things b/c they've gotta keep the takes hot.

— Evan McMurry (@evanmcmurry) October 16, 2014
By the way, Siegel is part of Fox News' "Medical A-Team," also home to everyone's favorite TV doctor, Keith Ablow.
[h/t NRO]
[Image via ChameleonsEye / Shutterstock.com]
——
>> Follow Evan McMurry (@evanmcmurry) on Twitter
Have a tip we should know? tips@mediaite.com