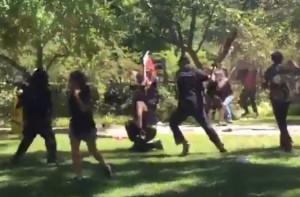 The Neo-Nazi group at the center of a violent maelstrom this weekend has promised to defend Donald Trump's supporters next month at the Republican National Convention.
The Traditionalist Worker Party was thrust into the spotlight on Sunday after their planned event in California broke down due to a multitude of fights with counter-protestors. At least five people were stabbed amid the brawls, but the mayhem hasn't stopped spokesman Matt Parrott from telling McClatchy that 30 members will head to Cleveland to "make sure that the Donald Trump supporters are defended from the leftist thugs."
"You're going to have a relatively civil event where you're going to have the leftists protesting Trump and you're going to have us arguing up against the leftists," Parrott said. He went on to predict that Cleveland police is preparing to control the situation, though "there might be a couple of isolated skirmishes."
Traditionalist Worker Party leader Matthew Heimbach is a known Trump supporter, and Los Angeles Times identified him as the rally attendee who shoved a #BlackLivesMatter protestor at one of the mogul's rallies. The group itself announced on their website that their event was held to "make a statement about the precarious situation our race is in" with regards to "brutal assaults" against Trump supporters.
This is hardly the first time Trump has received white supremacist support, and his critics say that it has become a consistent trend for his voter base. Furthermore, Trump's rallies have observed violent behavior that came from both from his supporters and from his protestors.
[Image via screengrab]
— —
>> Follow Ken Meyer (@KenMeyer91) on Twitter
Have a tip we should know? tips@mediaite.com