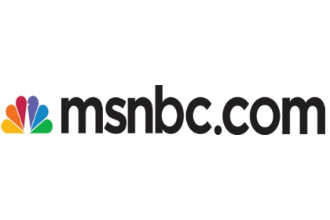 On Wednesday afternoon, Howard Kurtz reported that NBC and Microsoft will announce a deal to part ways, with the NBC purchasing back the remainder of MSNBC.com from the software corporation.
Reportedly, the plan entails a rebranding of MSNBC.com as NBCNews.com. The site currently ranks among the top three in online news sites. The cable network MSNBC was originally a joint venture between NBC and the software company, thus the MS in the title. After the television partnership ended seven years ago, the two remained partners in the website.
"We're absolutely having those conversations, but there is no deal," an NBC spokesman told Kurtz, who reported that "NBC executives have grown frustrated at not having sole control of the MSNBC website, which does original reporting as well as aggregating content from the AP, Reuters, New York Times and elsewhere. At the same time, as the MSNBC channel has forged a separate identity as the liberal home of Rachel Maddow, Chris Matthews, Ed Schultz and others, the company has worried about the brand confusion caused by its straight-news site bearing the same name. And the cable channel has lacked a site solely devoted to pushing its personalities."
"Two years ago," Kurtz continued, "NBC and Microsoft held serious negotiations about changing the name of MSNBC.com to alleviate that confusion. Once Microsoft withdraws, NBC may create a second site with the MSNBC name simply to promote the cable channel's offerings."
Under the split, Charlie Tillinghast, the current chief executive of MSNBC.com, would reportedly continue to run the site. But Kurtz wrote that Tillinghast and many employees would likely move away from Microsoft's office based in Redmond, Washington. While no deal is officially in place yet, employees have reportedly been briefed on the plans and how it will affect their careers.
Full report here.
UPDATE: TVNewser takes issue with Kurtz breaking this story as an "exclusive" because, as it turns out, AdWeek broke the news about the site buyback in May, and TVNewser had already broken the news of the MSNBC.com rebranding, also in May.
>> Follow Andrew Kirell (@AndrewKirell) on Twitter
Have a tip we should know? tips@mediaite.com