NBC News: Hillary Plants 'Tiny Seed of Doubt' About 2016, May Inspire Democratic Panic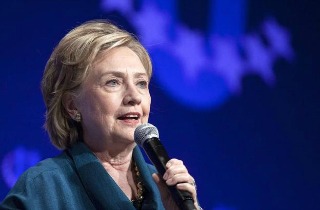 According to the politics team at NBC News, former Secretary of State Hillary Clinton played her 2016 intentions a little less coy on Tuesday. They claimed that Clinton planted a "tiny seed of doubt" about whether she does, in fact, plan to run for president when Barack Obama leaves office. This, NBC News' First Read team wrote, will incite panic within Democratic ranks as the party does not have an alternative to Clinton.

"I am obviously flattered and deeply honored to have people ask me and people encourage me. And I am thinking about it," Clinton told a San Francisco audience. "But I'm going to continue to think about it for a while."
RELATED: Hillary Clinton: Partisanship Is Pushing America 'Backwards Instead of Forward'
"I would be the first to say we're having a political period of, frankly, dysfunction," Clinton ruminated later. "I saw it from afar as secretary and it was disheartening and even embarrassing to see people arguing about letting us default on our debt."
The First Read reporters observed that Clinton is probably among the most familiar with political dysfunction, citing the government shutdowns and impeachment proceedings of the 1990s as evidence. But because "dysfunction" is a feature of divided government, which has become familiar condition in Washington over the past 20 years, it should not dissuade Clinton from wading back into politics.
Some Democrats might find Clinton's expression of reticence about reentering the fray in the nation's capital disconcerting.
"[A]nytime Hillary expresses a little doubt about 2016, it's going to set off some panic in the Democratic Party," the First Read team noted. "Why? Because, at least right now, there isn't another Democrat out there that would have the same demographic, experience, and fundraising strengths she has."
[Photo via Samantha Sais / Reuters]
— —
> >Follow Noah Rothman (@NoahCRothman) on Twitter
Have a tip we should know? tips@mediaite.com