NBC/MSNBC Get An Iraq Troop Withdrawal Exclusive – But What Did It Mean, And Who Helped?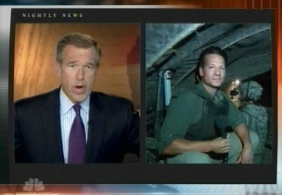 There's no question NBC News had an impressive, gripping scoop last night: the last U.S. combat troops are leaving Iraq. NBC News' Richard Engel was embedded, MSNBC's Rachel Maddow was in Baghdad, the all-star line-up anchored – and the other networks played major catch up.
But this fantastic coverage also showed a cooperation at least on some level between NBC and MSNBC and elements in the Obama administration.
There is already a debate going on about what exactly we witnessed tonight on what amounted to mostly NBC and MSNBC. The withdrawal was significant, but symbolic as well. But there are disputes about how many troops or left and what they will be called. There are disputes about whether this day is even the 'big day' or if that comes at the end of August. Even MSNBC shifted from calling the images the final "combat troops" and instead started using "combat brigade." Perhaps more interestingly, the White House is essentially disputing some of how NBC has characterized what's happening.
But some elements within the military, so by extension the Obama administration, clearly worked with NBC (and MSNBC) to let them have this exclusive. Richard Engel broke the news at 6:30pmET on NBC Nightly News, and the line-up was set from that point on for MSNBC to provide blanket coverage. Networks like Fox News, had reports on Iraq from Dominic Di-Natale throughout the day (and reports during Special Report and FOX Report), and CNN didn't ignore the story, but all the networks were clearly caught off guard by what MSNBC had coming (there was no mention in the east coast broadcasts of ABC or CBS' evening news programs). CNN quickly scrapped whatever plans there were for Rick Sanchez' 8pmET show and went wall-to-wall, but by the time Larry King was on, that coverage subsided.
And again, there was certainly cooperation on some level. Brian Stelter of the New York Times has some backstory on how NBC got the scoop:
NBC officials said their requests to report live during the withdrawal were first filed many weeks ago. The requests provoked debate within the military, with some people arguing that having reporters present would place excess attention on the fact that the troops were leaving.
Also from the story, David Verdi, an NBC News vice president, said, "The military had said, 'You are the ones who are going to broadcast it first.'"
That's a stunning admission, and shows a degree of coziness between both sides here. But not, perhaps, a coziness with the administration as a whole. White House correspondent Chuck Todd said on MSNBC:
We're not the only ones embedded with this last brigade that had just left Iraq. In fact I think there are four or five other news organizations. We happen to be the only one that has the technology to bring these pictures to the world tonight live, of this brigade leaving. You do get the sense, Keith, that that is what wasn't fully comprehended [by the White House].
Other news organizations, yes, but none with TV cameras. And the video coming out on NBC and MSNBC were engrossing, thanks to the Bloom Mobile. (Some background: "Affectionately named after the late David Bloom, who died while covering the Iraq war for NBC News. The Bloom Mobile is part tank, part satellite truck, and delivers a live satellite broadcast while reporting from the field.") Similarly, the reporting and interviews from Maddow in particular have been excellent. But this type of access and advanced warning will add fuel to the fire of those who believe NBC and MSNBC get special treatment from the Obama administration.
But what did the potential special treatment even get? Some tacit denials from the White House, and enormous coverage of what even the anchors on MSNBC agreed was largely a symbolic moment.
At one point during the night, MSNBC contributor Howard Fineman remarked that the network's coverage had been "sensational." It was – in more ways than one.
(This has been edited for clarity.)
—–
» Follow Steve Krakauer on Twitter
Have a tip we should know? tips@mediaite.com