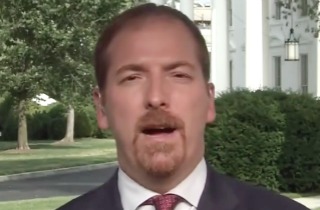 Meet the Press host Chuck Todd did an interview with Media Matters, and in part two, out today, Todd weighed in on Fox News and said they have quite an "obsession" with media bias. Todd addresses the topics of discussion on Sunday shows like Meet the Press and how guests treat politics more like a game as opposed to affecting policies that have a real-world impact on people's lives.
Todd defends his record thus far of having a diverse array of guests on the show, not just racially but politically. Todd's interviewer asks about some sunday shows balancing out conservatives with news reporters. Todd says he doesn't do that and largely dismisses it as a "Fox phenomenon" because they have an agenda.
Todd also weighs in on ideological media where, for example, progressives might jump down someone's throat for being a secret conservative if they dare say something critical (gee, I wonder what gave Chuck Todd that idea). But he honed in on Fox News in particular and how they have, in his words, an obsession and fixation on the subject of media bias:
I think their obsession with always — I think it's amusing to me, their obsession with trying to make everything about media bias. Whatever story, whatever angle, whatever stories is out there, there's always some sort of supposed media-bias angle to it. And I'm like, "Aren't they the number one media — news media outlet on cable?" So my concern, frankly, is less about the media organizations and more about the groupthink that's taking place with the populace.
[h/t Politico]
[image via screengrab]
— —
Follow Josh Feldman on Twitter: @feldmaniac
Have a tip we should know? tips@mediaite.com
Josh Feldman - Senior Editor