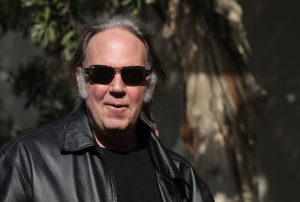 Neil Young took to Facebook today along with his girlfriend, Daryl Hannah, to write an open letter to urge President Barack Obama to "step in and end the violence against the peaceful water protestors at Standing Rock immediately." He also encouraged others to "Speak up and show up. Be counted. Be like our brothers and sisters at Standing Rock. Be there if you can."
Young began the letter by talking about Thanksgiving. "Tales of a feast on Plymouth plantation in the Autumn of 1621, where of pilgrims from the Mayflower, celebrated the harvest, shared and broke bread with the first Americans are false." He continued, saying that "From Plymouth Rock to Standing Rock, this lie has made our Thanksgiving Day a Day of Mourning for the First Nations, all the tribes big and small, those who came before us."
Recently, protests at Standing Rock have grown more violent, with police using water cannons on protestors despite freezing temperatures.
He writes:
We will be going back to support the water protectors again.
Let us all stand with them in thanks, in appreciation for the ancient wisdom they carry, In thanks for this opportunity for true gratitude.
For giving us a path forward.
For trying to show us a road to survival.
We offer our support and our respect. We hear the call to protect the water protectors to listen, learn and get engaged. They are brave. We thank them.
Young also released a song in September called "Indian Givers," which he wrote in solidarity with the protestors. He has been one of the most outspoken celebrities on the issue.
[image via DFree / Shutterstock.com]
Have a tip we should know? tips@mediaite.com