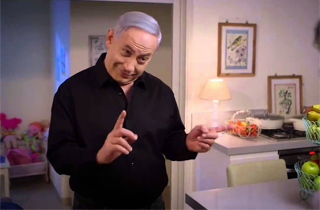 In the days leading up to Benjamin Netanyahu's speech to Congress and election day in Israel, he's being accused of some very expensive vanity.
According to a state comptroller report on the Prime Minister's spending between 2009 and 2013,
acquired by The New York Times, Netanyahu and his family spends a lot of money on a lot of frivolous things such as $24,000 on takeout food in 2011 — eyebrow-raising since the family also has their own private chef — and $68,000 on hair and makeup between 2010 and 2011, twice the amount allowed in Netanyahu's personal budget. In addition, they're suspected of stealing patio furniture to take to their private house, which, okay, that's weird.
"This is public money, and the law for a penny is the law for 100," Comptroller Joseph Haim Shapira said in a statement. "Public trust in government institutions is the foundation stone of every democratic regime."
While Netanyahu's base may shrug off the accusations in the middle of a heated election season, some are beginning to question his largesse, pointing to scandals about his overspending on ice cream and installing private sleep chambers on planes. As one voter told BuzzFeed:
"Maybe in America you don't think this is so much money, but for us in Israel this is a scandal. So many Israelis are struggling to make rent, and you have a prime minister who spends thousands each month on hair? I find it disgusting," said Sarai Limor, a 41-year-old Israeli who has voted for Netanyahu in the past two elections but said that she is reconsidering her vote in the upcoming March 17 vote. "I'm not the only one who is feeling like Netanyahu has totally lost touch with the average Israeli family."
In defense of Netanyahu, not everyone's hair can look like a swan in mid-flight, and that kind of hair needs some serious investment and maintenance.
[BuzzFeed]
[Image via screenshot/Bibisitter]
—
>> Follow Tina Nguyen (@Tina_Nguyen) on Twitter
Have a tip we should know? tips@mediaite.com