New Abrams Media Record: 14.3 Million Unique Visitors Came To Our Sites In February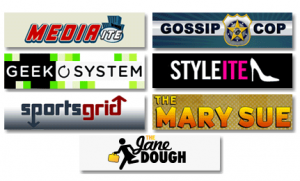 Celebratory traffic posts become tiresome. My note to our staff last month came after we hit record numbers for January but if these "we are up again" notes are regular occurrences they become at best background noise or, at worst, transform into irritating forms of braggadocio. But when I wrote a celebratory missive last month, I also could not fathom that every one of our sites would be up again from the previous month. They were. And February was 29 days!
According to Google Analytics, Mediaite and its syndicated content welcomed a whopping, and all-time high, of over 6.8 million unique visitors, SportsGrid shattered its previous record with 2.1 million uniques, TheMarySue and TheJaneDough surpassed their previous bests and Geekosystem and Styleite grew for the third straight month in a row. But arguably the most amazing story is that of our cousin site Gossip Cop (which is a partnership between myself and star editor Michael Lewittes) which welcomed over 3 million unique visitors in February. (See below for a separate announcement on Gossip Cop).
Thanks to all of our readers and congrats to all the writers and editors who made it happen.
GOSSIP COP SURPASSES THREE MILLION UNIQUE VISITORS IN FEBRUARY

NEW YORK, MAR. 1, 2012 – GossipCop.com has achieved yet another milestone. The
only editorial website to separate fact from fiction in celebrity reporting had more
than three million unique visitors in the month of February.

"I am tremendously proud of Gossip Cop's growth, which surpassed our projections for
where we expected to be at two-and-a-half years in," said Gossip Cop's editor and co-
founder Michael Lewittes.

"Having three million unique visitors last month was great – imagine if February had a
full 31 days," Lewittes added lightheartedly.

Gossip Cop now has far greater online traffic than many of the long-established
celebrity magazines the site scrutinizes every day.

The site is not only enjoyed these days by millions of readers, but it's also a welcomed
read for many celebrities who have publicly given Gossip Cop shout-outs, including
George Clooney, Paula Abdul, Justin Bieber, Demi Moore, Jessica Simpson, Bill Maher,
and Kim Kardashian, to name a very few.

"We work hard every day, and are truly grateful that we've grown a loyal following
interested in accurate entertainment reporting," said Lewittes.

GossipCop.com is the venue to separate fact from fiction in the world of
entertainment and gossip and has quickly become that trusted source for accurate
and researched entertainment news. For years the public and the celebrities
themselves have been clamoring for a media entity willing to check the facts even if
sometimes that means double-checking the media itself. That's why those in the
know go to Gossip Cop.
Have a tip we should know? tips@mediaite.com