New Allegations Accuse News Of The World Of Hacking Into Phones Of War Victims' Families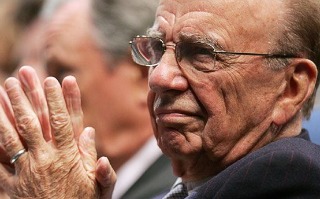 News of the World and its parent company are poised to face deeper financial and legal repercussions in the wake of new allegations concerning the publication's phone hacking activities — this time involving the families of British soldiers.
As we told you earlier this week, Britain's News of the World is under intense scrutiny following an investigation by rival publication The Guardian showing that the paper allegedly hacked into the voice mailbox of missing teen Milly Dowler, deleting several of the girl's voice mails and subsequently damaging the investigation into her disappearance. The scandal has cast a harsh light on Rebekah Brooks, the paper's editor at the time and currently Rupert Murdoch's chief executive in the UK. News of the World is, of course, part of Rupert's expansive media empire. In a memo to staff at Murdoch's News International, Brooks expressed her dismay at the allegations and shared that she has no plans to step down from her position.
Murdoch, meanwhile, called the allegations against his paper "deplorable and unacceptable," and maintained that his company was cooperating with authorities in their investigation.
MSNBC's Chris Hayes, for one, opined that these allegations could be "devastating" for Murdoch's papers as advertisers flee.
And the allegations against News of the World continue to mount. Now, reports allege that Glenn Mulcaire, the private investigator allegedly hired by the paper, had personal information on the families of British servicemen killed while serving in Iraq and Afghanistan. If the allegations are true, this would mean that News of the World reporters intercepted messages meant for the family members of these slain soldiers.
The Times, which is also owned by Murdoch, has reported that five journalists and newspaper executives at the News of the World were slated to be arrested.
In addition, culture secretary Jeremy Hunt is expected to delay his verdict on whether Murdoch's News Corp. may proceed in its longstanding bid to take full control of British satellite broadcaster BSkyB. His decision has been pushed until September now that the phone hacking scandal has prompted a new wave of submissions — over 100,000 in total — which would take government officials until August 30th at the very earliest to sort through.
h/t Sydney Morning Herald and FT.com
Have a tip we should know? tips@mediaite.com