New Edward Snowden Revelation: British Spy Agency Tapping Into Fiber Cables, Mining Phone, Email Data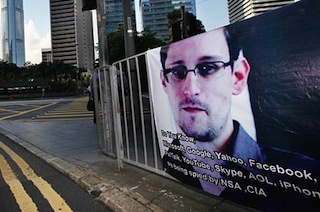 NSA-leaker Edward Snowden continues his slow trickle of revelations, with the Guardian reporting Friday afternoon that England's Government Communication Headquarters, the British version of the NSA, has been tapping into fiber optic cables carrying telephone and email information.
The Guardian named two programs, "Mastering the Internet" and "Global Telecoms Exploitation," both run by the GCHQ, which is the largest and most successful member of the "Five Eyes" surveillance network, made up of the United States, England, Canada, Australia, and New Zealand. According to the documents, the GCHQ was better able to run the program because it has "a light oversight regime compared with the US." The programs harvests large amounts of metadata, and has been operational for eighteen months.
While the Guardian says the GCHQ is executing the program, it estimates "850,000 NSA employees and US private contractors with top secret clearance had access to GCHQ databases."
"GCHQ and the NSA are consequently able to access and process vast quantities of communications between entirely innocent people, as well as targeted suspects," the paper wrote. "This includes recordings of phone calls, the content of email messages, entries on Facebook and the history of any internet user's access to websites—all of which is deemed legal, even though the warrant system was supposed to limit interception to a specified range of targets."
These new revelations come one week after Snowden released information that the GCHQ was practicing espionage on foreign diplomats during the 2009 G20 summit in London.
Read the article here.
[h/t The Guardian]
—
>> Follow Evan McMurry (@evanmcmurry) on Twitter
Have a tip we should know? tips@mediaite.com