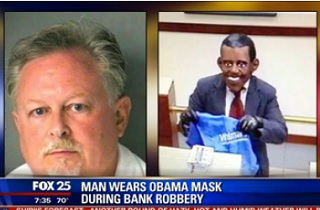 A fifty-two year old New Hampshire man named John Robert Griffin Jr. is in custody after allegedly robbing a bank while wearing a Barack Obama mask on Wednesday morning. Griffin was apprehended within 15 minutes of the alleged robbery, carrying a loaded semiautomatic handgun, and is being held on $75,000 bail. Interestingly, Griffin's alleged robbery occurred two years, almost to the day, after another bank robbery involving a suspect in a Barack Obama mask.
On Wednesday morning, September 11, Griffin  allegedly robbed the Bank of America in Merrimack, New Hampshire, wearing a suit and tie, and a Barack Obama Halloween mask, but didn't get far. From The Merrimack Patch:
Because of the witness descriptions of the man and a provided direction of travel, Lt. Paul Trepaney was able to spot the suspect coming out from behind a business on Columbia Circle just north of the bank, within about 15 minutes of the robbery.

Police say Griffin initially had left the bank with an undisclosed amount of cash.

Lt. Denise Roy said he never brandished a gun in the bank, but Merrimack Police Prosecutor Melissa Kowalewski said during Griffin's arraignment that when he was taken into custody, he was found to be in possession of a semi-automatic pistol and ammunition.

Kowalewski recommended Griffin be held on $75,000 cash or surety bail during the arraignment, saying that though Griffin doesn't have a criminal history, he poses a danger to the community as he had "no qualms" walking into a bank with a gun on him during the middle of the morning and robbing it, putting the teller in imminent fear of her safety.

Griffin, who spoke briefly at the arraignment, claimed he wasn't armed when he entered the bank.
Here's Fox 25 Boston's report on the robbery:
In an odd coincidence, almost exactly two years earlier, a man committed a bank robbery in Tekonsha, Michigan while wearing a Barack Obama mask. That robbery occurred on September 8, 2011, and was the last in a string of eight bank robberies suspected to be the work of a serial bank robber:
The suspect is a white male, approximately 6'0" tall, with an average build. The suspect has worn camouflage clothing during hunting season to disguise his appearance, and in the other robberies he wore a vinyl Halloween mask, possibly an Al Gore and Barak Obama presidential mask. (see below pictures) The suspect has used a black semi-automatic pistol during the course of the robbery and is presumed to be armed and dangerous. The getaway vehicle is described as a white four-door passenger car with a gray or black strip along the bottom.
According to FBI agent Brent Johnson, that suspect was never apprehended, but they placed his age at roughly 20 to 35 years old. He also said that the suspect in the string of robberies had not worn the same covering twice, and that they believed he had gotten rid of the Al Gore mask after wearing it during one robbery. Johnson's office had not yet heard about the robbery in Merrimack, but said they would follow up on it.
Merrimack Police Detective Scott Park told Mediaite that Mr. Griffin is approximately 5'9″ tall, and has lived in the area most of his life, making it unlikely Griffin could be the suspect in the Michigan robberies, but also said he would follow up. For now, it's just an interesting coincidence.
Presidential masks are somewhat frequently used in bank robberies, perhaps inspired by the Patrick Swayze/Keanu Reeves film Point Break, but sometimes, they use almost-presidential masks. A man in a Mitt Romney mask robbed a Virginia bank just weeks after Romney's defeat in the 2012 election, and two years after someone else robbed that bank while wearing a Hillary Clinton mask.
[photo via screengrab]
Have a tip we should know? tips@mediaite.com