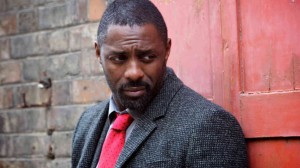 British thriller writer Anthony Horowitz, whose latest novel adds to the 007 literary tradition initiated by Ian Fleming and adapted for the silver screen, is catching flack for comments made about whether or not Idris Elba would be a good replacement for the current James Bond, Daniel Craig.
In a wide-ranging interview with the Daily Mail, Horowitz described himself as a fan of Elba's work, but said the actor was "too 'street'" for the role:
'Idris Elba is a terrific actor, but I can think of other black actors who would do it better.'

He names Adrian Lester, star of Hustle.

'For me, Idris Elba is a bit too rough to play the part. It's not a colour issue. I think he is probably a bit too "street" for Bond. Is it a question of being suave? Yeah.'
Horowitz was quick to point out that it wasn't a matter of the character's race, noting that other black actors would probably be a better fit for the role. He even named Adrian Lester of Hustle.
Everybody is reporting on literally half of what the Bond author said about Idris Elba. Keep on blindly reacting to stimuli, everybody.

— Devin Faraci (@devincf) September 1, 2015
Yet this wasn't enough to deter the inevitable online onslaught, spearheaded by social media users who took issue with Horowitz's word choice (re: "street") and accused him of racism.
When one says, "It's not a colour issue" – it's a color issue. Idris Elba 'too street' to play #Bond, 007 author says http://t.co/hwIKzFANHF — Alphonso Van Marsh (@AlphonsoVM) September 1, 2015
I still think @idriselba would be a badass Bond. Apparently, some disagree… http://t.co/tjhAuwRTnF

— Jake Pechtel (@JakePechtel) September 1, 2015
Let's just start a whole new spin-off franchise: STREET BOND. Don't tell me people wouldn't watch that. #StreetBond — Gary Whitta (@garywhitta) September 1, 2015
"Do you expect me to talk?" "No, Mr Bond, but for some reason it's very important to me that you're not black."

— Rick Burin (@rickburin) September 1, 2015
Idris Elba is handsome, urbane, confident. If he's 'street', that street is a gilded cobblestone cul-de-sac in front of a stately mansion — Caelyn Sandel (@inurashii) September 1, 2015
Then again, we mustn't forget that Elba himself contributed to this ongoing discussion back in December.
Isn't 007 supposed to handsome? Glad you think I've got a shot! Happy New year people. pic.twitter.com/3g9lAl2Uo3

— Idris Elba (@idriselba) December 27, 2014
UPDATE–1:57 p.m. EST: Horowitz issued a statement on Twitter apologizing for his comments.
I'm really sorry my comments about Idris Elba have caused offence [full statement attached] pic.twitter.com/UD6ouA45Uv

— Anthony Horowitz (@AnthonyHorowitz) September 1, 2015
[h/t the Daily Mail]
[Image via screengrab]
— —
>> Follow Andrew Husband (@AndrewHusband) on Twitter
Have a tip we should know? [email protected]