New Jersey Democratic County Official Louis Magazzu Resigns Over Nude Photo Scandal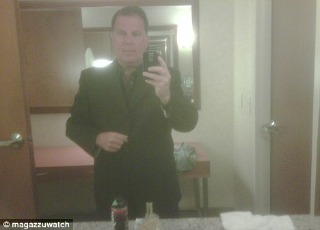 Democratic Cumberland County Freeholder Louis Magazzu has resigned from the board of freeholders after nude pictures he had emailed and texted to a woman were published online. A father of five, he has now separated from his wife. He elected to resign and post an apology online, although no formal ethical complaint had been made.
Magazzu claims he and the women have been corresponding online for several years, and that he had agreed to send her nude pictures of himself, unaware that she'd been working with an "avowed political enemy." The avowed enemy in question would be Carl Johnson, a longtime critic of the politician who runs a site called "Magazzu Watch." (They can be seen in the site's "Photo Gallery," if you are so inclined. One censored image from the set appears below.)
In a blog post published this morning, Johnson writes that "My goal, with my cohorts, was to bring decency back into local politics. But now I read comments from Lou's lawyer with completely false allegations." He includes a statement from his "source," whom he insists to have vetted thoroughly.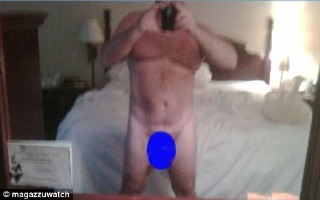 Below is Magazzu's letter of resignation in full:
RESIGNATION STATEMENT OF LOUIS N. MAGAZZU
August 2, 2011

The greatest professional privilege of my life has been to serve as a Cumberland County Freeholder since my election in 1997.

Since my election, I have worked to improve the quality of life for all families of Cumberland County. I am proud of the accomplishments that have come from the collective work of the Freeholders with whom I have been honored to serve. I am particularly proud of the work which resulted in the Federal Empowerment Zone which brought twenty five million dollars into our county and two hundred and fifty million dollars in private investment, the fifty million dollar Motorsport Park and the NACo prescription card which has resulted in savings to our residents into well over a million dollars. I am proud of the forty four million dollar expansion of the Cumberland County College; half of which was paid by the State of New Jersey. I am proud of the years working together where we fought for the people of Cumberland County.

Unfortunately, in my personal life, I did not always demonstrate the wisdom and balance that I expected from myself, and that the people of Cumberland County deserve and have every right to expect.

As a consequence, a woman who I have never met personally, but have corresponded with on the internet for several years, has recently shared some photographs which she requested and that were intended only for her eyes. I did not know that she was working with an avowed political enemy to distribute these pictures. I have retained counsel to determine what laws may have been broken by the unauthorized distribution of those pictures. No government services or equipment were used by me when taking the pictures or transmitting them to the woman in question.

I apologize to Carmele who has been supportive of me throughout our lives and particularly since our separation of nearly two years and during this very difficult time. I apologize to my children, the rest of my family, to those who have supported me.

I apologize to my colleagues in elected office, the wonderful professionals I have dealt with in the county and in other governmental endeavors and to the people of Cumberland County. The leaders of the county have enormous challenges and cannot have this type of distraction.

To spare those I love further pain, and to hopefully begin the process of healing, I hereby resign, as Freeholder and from all other affiliated positions, effective immediately, so that I may privately, through counseling and the grace of God confront my personal responsibilities.

I would only request that our community show compassion for those whose pain I have caused so that we may begin to heal.
h/t The Daily Mail and MagazzuWatch
Have a tip we should know? tips@mediaite.com