New Jersey's Editorial Boards Turn On Bob Menendez, Question Fitness For Office Over His Mounting Scandals
New Jersey's Editorial Boards Turn On Bob Menendez Over His Mounting Scandals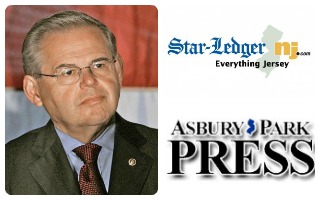 New Jersey's Democratic Sen. Bob Menendez surely wishes the allegations he faces, which include using his position to benefit a campaign contributor's business interests and patronizing prostitutes in the Dominican Republic, would just go away. New Jersey's junior senator is getting no help from two of his home state papers in making the scandal disappear, however, as two of them recently published editorials voicing serious concerns about the allegations and Menendez's ability to perform ethically in office.

RELATED: Sen. Robert Menendez Responds To 'Nameless, Faceless, Anonymous' Prostitution Allegations
"The scandal surrounding Sen. Robert Menendez raises serious doubts about his fitness to serve as chairman of the Foreign Affairs Committee, a job he is scheduled to assume this week," began a scathing editorial in the New Jersey Star-Ledger.
The iconic Garden State paper dismissed the accusations that Menendez had contracted the services of prostitutes while abroad. The paper's editorial board claimed that there is "no credible evidence to support that accusation."
However, The Star-Ledger's editorial board was not satisfied that Menendez had not used his position of influence to benefit Salomon Melgen, a South Florida campaign donor whose offices were recently raided by the FBI in connection with the trips that he and Menendez took to the Dominican Republic. Menendez recently reimbursed Melgen $58,500 for the flights on his private jet to the DR.
The Star-Ledger had already noted that senior Sen. Frank Lautenberg (D-NJ) is one of the few Garden State legislators willing to entertain the notion that Menendez is facing a potentially career-ending scandal.
"Not exactly the full-throated backing you want from friends. Instead of waving off the question, Lautenberg's words sounded like the allegations were already fact – and he was already mourning Menendez's reputation," The Star-Ledger editorial board opined after Lautenberg said it would be "too bad" if the allegations Menendez faces turned out to be true.
The Star-Ledger was not alone in speculating about Menendez fitness for office. The Asbury Park Press also weighed in, noting that the senator has an obligation to put this scandal to rest.
"The allegations are ugly, and, thus far, unsubstantiated. But there is no doubt that U.S. Sen. Bob Menendez, D-N.J., has lots of explaining to do," read The Asbury Park Press editorial. "Every passing day seems to bring new details about possible improprieties."
Sordid details aside, it seems Menendez may have violated ethics rules and even broken a campaign finance law in the matter of repaying his benefactor.
"Sexual scandals, ethics violations and political favors for an old friend? It is becoming difficult to simply dismiss the whole thing, as some have tried to do, as a right-wing smear campaign," The APP editorial concludes. "Menendez is certainly innocent until proven guilty and entitled to all the protections the Constitution and fairness afford. But in the real world, the stink of unethical behavior and corruption are hard to shake."
They recommend that Menendez's chairmanship of the Senate Foreign Relations Committee be put on hold until the allegations against him can be confirmed or dismissed.
> >Follow Noah Rothman (@NoahCRothman) on Twitter
Have a tip we should know? tips@mediaite.com