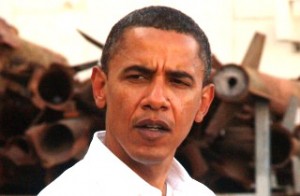 Well, this isn't something you hear every day.
President Barack Obama once walked in on one of his aides in bed with an old college friend, according to a copy of Reggie Love's memoir obtained by The Washington Post. And his subsequent reaction drew laughs from high-profile campaign staffers that you've probably heard of.
Love, who was a personal aide to then-Sen. Obama through the 2008 election and part of his first term as president and was described as Obama's "bodyman," recounts a particular moment during a campaign stop in 2007 when a college friend visited Love and "ended up staying the night," he writes in the memoir out February 3rd. The next morning, the would-be president used a Secret Service master key to let himself into Love's hotel room, only to discover that there was a girl in Love's bed while he was getting ready.
Take it from here, Reggie:
I remember the most peremptory of knocks, the sound of his voice talking even as he walked in. … He was charged up, going a mile a minute.

"Hey, Reggie, we need to go over the schedule" – at which point the senator finally noticed my friend in bed, covers pulled to her throat, mortified.

"Oh," he said. "I apologize." Then he turned around and hurried out.

"Was that?" she asked, face red.

"Senator Barack Obama," I said sheepishly.
To make the situation even worse (or funnier?), Obama didn't just let it go and keep his mouth shut. Oh, no no no.
"You know, sir, if it's any consolation, I'm having the time of my life," Love said in an attempt to console Obama, who was bemoaning the tribulations of campaigning. Obama's response?
"Well, Reggie, it's actually not a consolation to me that my campaign for president can help subsidize your love life."
The remark, according to the Post, drew laughter from such high-profile aides as David Axelrod and Robert Gibbs.
"Actually, sir, I got way more action in college," Love replied.
As Love puts it in the memoir:
A round of groans rose up from the whole staff. If nothing else, I was providing a distraction from the gloom. I'd uncovered another facet to the bodyman role: that of court jester.
It would be nice if there were more court jesters in politics, right?
[Image via Shutterstock]
— —
>>Follow Andrew Desiderio (@forza_desiderio) on Twitter
Have a tip we should know? [email protected]