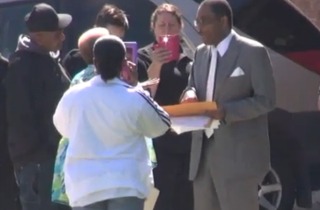 The newly-elected mayor of a small St. Louis-area town was greeted by local police when she tried to enter her office on day one.
KTVI Fox 2 was on the scene in Kinloch, Mo., when Mayor Betty McCray was barred from entering City Hall on Thursday and was informed that she has been suspended and the Board of Aldermen intends to impeach her and newly-elected Alderman Eric Petty.

"I won. The people spoke," McCray told the press after she had been served papers and told she could not enter the building. "I was sworn in by the St. Louis County. Today I take office. I want them out, I want the keys." The Board had refused to swear in McCray and Petty, and so the pair were reportedly sworn in by a St. Louis County circuit court clerk on Tuesday.
The St. Louis Post-Dispatch reported that a half-dozen police officers and City Attorney James Robinson initially greeted McCray with an envelope containing the articles of impeachment:
"You can't come in as mayor," Robinson said. "You have been suspended."

McCray refused to take the envelope, saying, "You may be the attorney now, but I promise you, you won't be later."

Robinson also told Alderman Eric Petty, an ally of McCray's, that the board had drafted articles of impeachment against him. Petty, too, refused to accept them.

"We won," he said. "It's time for them to move on."
McCray is in trouble with the Board because of allegations that her election was marred by voter fraud. The new mayor won the April 7 election with 38 votes to her main opponent's 18. The city of Kinloch has fewer than 300 residents and, as the Post-Dispatch noted, it is "marked by pilfered coffers, shady land deals and increasingly bitter fights over the last remnants of political power."
More details on the alleged fraud, via the Post-Dispatch:
According to documents obtained… the city has raised concerns to the St. Louis County Board of Elections and the Missouri Secretary of State about people being registered to vote in Kinloch who no longer live there. On April 2, the city gave the Election Board a list of 27 names of people who it claimed were illegally registered; many of those individual addresses were listed at city-owned apartments.

McCray said that the concerns about people's being illegally registered were "absurd."

"It never came up until I ran for mayor," she said, adding that people were still living at the addresses the city claims are empty.
Read the full report here. And watch the courthouse scene below, via KTVI:
— —
Have a tip we should know? [email protected]