New Report Says Roger Ailes Had a 'Black Room' to Wage Campaigns Against Enemies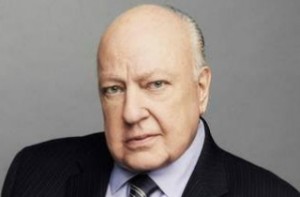 News about Roger Ailes continues to drip out after his resignation as Fox News Chairman and CEO, with a new report today about an alleged "black room" he set up with company money.
New York Magazine's Gabriel Sherman, whose reporting has been at the forefront of this entire Ailes-ousting saga, has a piece up about this "black room" and it being a way for Ailes to engage in "PR and surveillance campaigns against people he targeted both inside and outside the company."
Here's an example of such:
Fox operatives also targeted Joe Lindsley, the former editor of Ailes's local newspaper The Putnam County News & Recorder. In April 2011, Lindsley had a falling out with Ailes and quit the paper along with two co-workers. Ailes assigned private investigators to follow Lindsley around Putnam County. He also asked Fox host Andrea Tantaros, whom Ailes had once seated next to Lindsley at a dinner party at Ailes's home, to contact Lindsley and report back on his whereabouts, two sources said. Meanwhile, Solivan posted negative comments about Lindsley on blogs, a source said.
Sherman said even he was targeted too, explaining that not only did people at Fox "set up web pages to attack my reputation," but PIs "employed by Fox contributor Bo Dietl were instructed to follow me and my wife."
And the reason more about this "black room" is coming out now is, apparently, Fox discovered it during investigations:
Ailes was also able to use portions of the Fox budget to hire consultants, political operatives, and private detectives that reported only to him, according to a senior Fox source. Last week, according to the source, Fox News dismissed five consultants whom Ailes had hired to do work that was more about advancing his own agenda than Fox's. One of the consultants, Bert Solivan, ran negative PR campaigns against Ailes's personal and political enemies out of Fox News headquarters, a source said. A Fox News spokesperson confirmed: "Solivan was recently informed that his services were no longer needed."
Ailes' attorney told NY Mag the allegations were "totally false."
[image via screengrab]
— —
Follow Josh Feldman on Twitter: @feldmaniac
Have a tip we should know? tips@mediaite.com
Josh Feldman - Senior Editor