Trump 'Revealed Highly Classified Information' to Russian Ambassador, Foreign Minister, Reports WaPo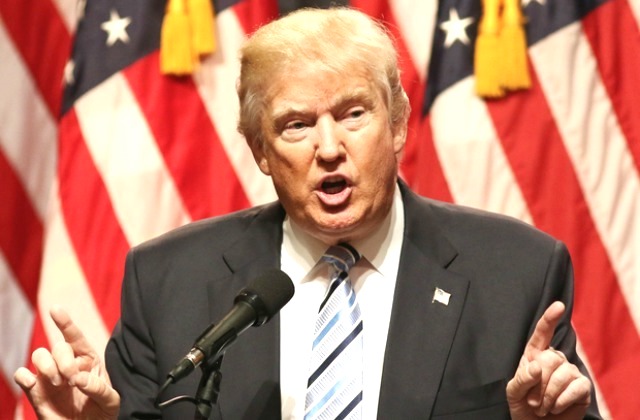 A new report from the Washington Post this afternoon has the pretty explosive headline "Trump revealed highly classified information to Russian foreign minister and ambassador."
The report from Greg Miller and Greg Jaffe says that these disclosures––most details of which they are not publicly revealing "at the urging of officials who warned that revealing them would jeopardize important intelligence capabilities"––actually did end up jeopardizing "a critical source of intelligence on the Islamic State."
Per WaPo:
The information Trump relayed had been provided by a U.S. partner through an intelligence-sharing arrangement considered so sensitive that details have been withheld from allies and tightly restricted even within the U.S. government, officials said.

The partner had not given the United States permission to share the material with Russia, and officials said that Trump's decision to do so risks cooperation from an ally that has access to the inner workings of the Islamic State. After Trump's meeting, senior White House officials took steps to contain the damage, placing calls to the CIA and National Security Agency…

The identification of the location was seen as particularly problematic, officials said, because Russia could use that detail to help identify the U.S. ally or intelligence capability involved. Officials said that the capability could be useful for other purposes, possibly providing intelligence on Russia's presence in Syria. Moscow and would be keenly interested in identifying that source and possibly disrupting it.
One U.S. official even said that the president "revealed more information to the Russian ambassador than we have shared with our own allies."
The report includes this statement from National Security Advisor H.R. McMaster:
"The president and the foreign minister reviewed common threats from terrorist organizations to include threats to aviation," said H.R. McMaster, the national security adviser, who participated in the meeting. "At no time were any intelligence sources or methods discussed and no military operations were disclosed that were not already known publicly."
Someone described as a former senior U.S. official "close to current administration officials" is quoted as saying, "Trump seems to be very reckless, and doesn't grasp the gravity of the things he's dealing with, especially when it comes to intelligence and national security. And it's all clouded because of this problem he has with Russia."
The president is quoted as saying, "I get great intel. I have people brief me on great intel every day."
You can read the full report here.
As you probably remember, the mishandling of classified information was a big issue for Trump in the 2016 campaign (and in the past few months as well):
Crooked Hillary Clinton and her team "were extremely careless in their handling of very sensitive, highly classified information." Not fit!

— Donald J. Trump (@realDonaldTrump) July 6, 2016
Lyin' Hillary Clinton told the FBI that she did not know the "C" markings on documents stood for CLASSIFIED. How can this be happening?

— Donald J. Trump (@realDonaldTrump) September 4, 2016
WikiLeaks proves even the Clinton campaign knew Crooked mishandled classified info, but no one gets charged? RIGGED! https://t.co/FgGxDsS0a1

— Donald J. Trump (@realDonaldTrump) October 17, 2016
The real scandal here is that classified information is illegally given out by "intelligence" like candy. Very un-American!

— Donald J. Trump (@realDonaldTrump) February 15, 2017
Leaking, and even illegal classified leaking, has been a big problem in Washington for years. Failing @nytimes (and others) must apologize!

— Donald J. Trump (@realDonaldTrump) February 16, 2017
The real story that Congress, the FBI and all others should be looking into is the leaking of Classified information. Must find leaker now!

— Donald J. Trump (@realDonaldTrump) March 20, 2017
Ask Sally Yates, under oath, if she knows how classified information got into the newspapers soon after she explained it to W.H. Counsel.

— Donald J. Trump (@realDonaldTrump) May 8, 2017
Back in February, there was a report in the Wall Street Journal with this actual first paragraph:
U.S. intelligence officials have withheld sensitive intelligence from President Donald Trump because they are concerned it could be leaked or compromised, according to current and former officials familiar with the matter.
UPDATE –– 5:50 pm ET: BuzzFeed has confirmed the reporting. One anonymous official told them, "It's far worse than what has already been reported."
UPDATE –– 5:59 pm ET: This is what happened when McMaster spotted the press at the White House:
. @HallieJackson at WH says McMaster just accidentally ran into hallway of reporters: "This is the last place in the world I wanted to be"

— Benjy Sarlin (@BenjySarlin) May 15, 2017
UPDATE –– 6:35 pm ET: Secretary of State Rex Tillerson has issued this statement:
First comment on Washington Post report from Secretary of State Tillerson. pic.twitter.com/cV70WchOXr

— Jeff Zeleny (@jeffzeleny) May 15, 2017
Deputy National Security Advisor Dina Powell has already given this response:
Dina Powell statement provided by WH: "This story is false. The president only discussed the common threats that both countries faced."

— Jim Acosta (@Acosta) May 15, 2017
UPDATE –– 6:52 pm ET: The New York Times is reporting the same now, noting this isn't an issue of legality:
Mr. Trump's disclosure does not appear to have been illegal — the president has the power to declassify almost anything. But sharing the information without the express permission of the ally who provided it represented a major breach of espionage etiquette, and could jeopardize a crucial intelligence-sharing relationship.
[image via JStone / Shutterstock.com]
— —
Follow Josh Feldman on Twitter: @feldmaniac
Have a tip we should know? tips@mediaite.com
Josh Feldman - Senior Editor