New WikiLeaks Email Shows Additional Questions Donna Brazile Sent Team Clinton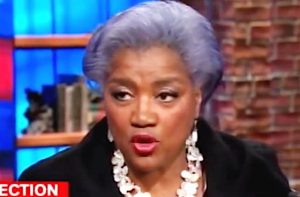 A new email released today by WikiLeaks expands upon an earlier one to reveal Donna Brazile sent more questions Team Clinton's way while she was still at CNN.
You'll recall that the first news of Brazile sending out such an email involved her passing along a question about the death penalty for CNN's March Democratic town hall.
Well, that email chain continued, and Brazile sent two more along: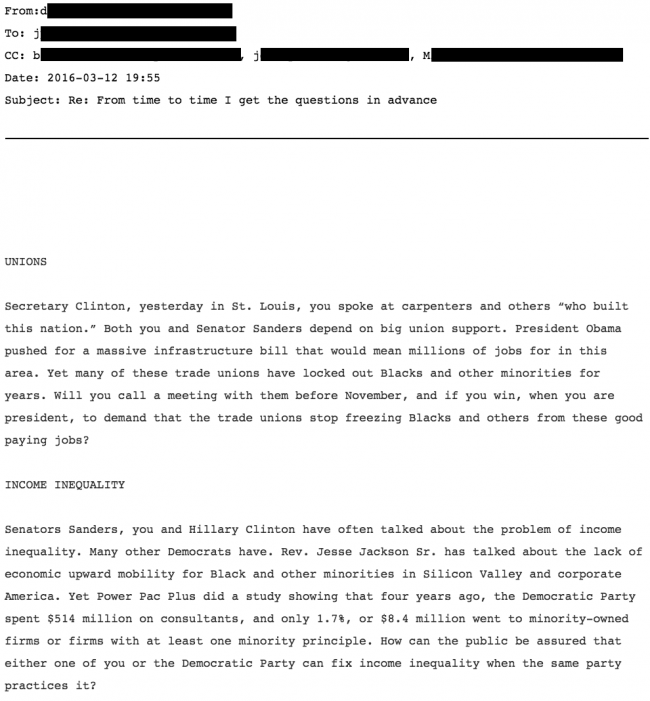 That second question, concerning income inequality, appears not to have been asked, per CNN's transcript of the event (UPDATE BELOW), but compare the wording of the first question––concerning unions––to what TV One's Roland Martin asked Hillary Clinton at the time:
MARTIN: Secretary Clinton, yesterday you were in St. Louis, and you talked about carpenters and the rebuilding of the country, the folks who built this nation.

CLINTON: Right.

MARTIN: And, both you and Senator Sanders have significant union support, yet many of the trade unions that – we walk about built the country, they've locked out black folks and other minorities for decades. Would you, even right now, and even as president, call a meeting with the trade unions and say it's time for you to open up those doors and bring in more African-Americans and Hispanics, and others be because those are high-paying jobs. And, if we keep saying rebuild America with a huge infrastructure and billions of dollars, they're the ones who are going to do it. And, black folks and others are going to be left on the outside looking in.
Brazile addressed the controversy today, saying she was "in touch with everybody" and feels her conscience is clear.
UPDATE –– 11:15 pm ET: That second question above was, in fact, asked at the CNN town hall. But it was asked to Sanders, not Clinton. Compare this from the transcript to the email above:
MARTIN: Senator Sanders, you have talked a lot about income inequality during this campaign. Reverend Jesse Jackson Sr., who is here, has been fighting Silicon Valley, opening up the doors and opportunities for African-Americans and other people of color.

Yet four years ago, PowerPAC+ did a study showing that the Democratic Party spent $514 million on various consultants, yet minorities only got 1.7 percent or $8.4 million of that.

How can the people trust Democrats to do something about income inequality when, when it comes to political dollars, they practice income inequality?
[h/t Jordan Chariton]
[image via screengrab]
— —
Follow Josh Feldman on Twitter: @feldmaniac
Have a tip we should know? tips@mediaite.com
Josh Feldman - Senior Editor