New York Magazine Erases Piece Smearing Priyanka Chopra as 'Scam Artist' for Marrying Nick Jonas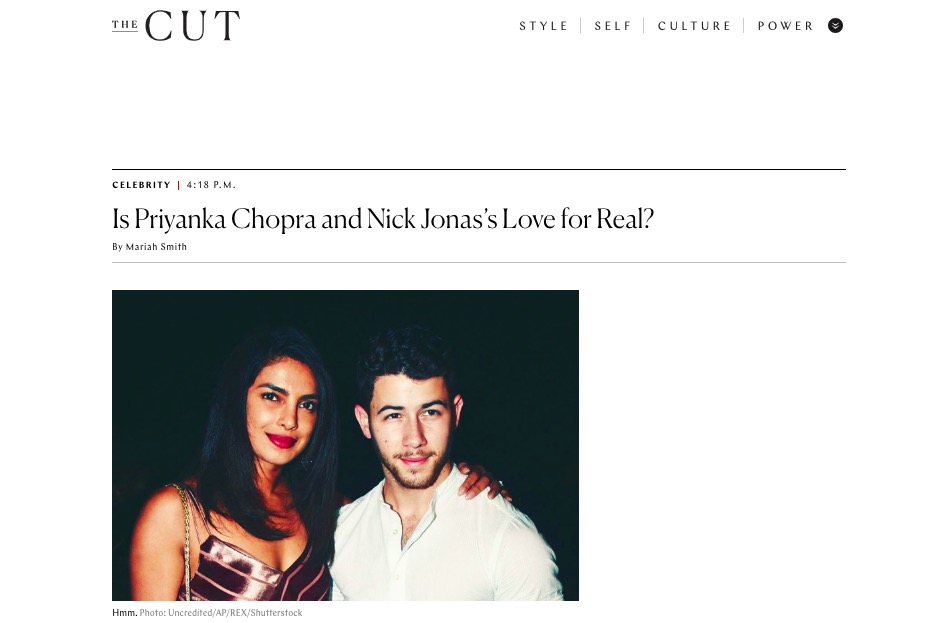 New York magazine's fashion and culture vertical The Cut has completely removed an article calling Indian actress Priyanka Chopra a "global scam artist" after it was widely condemned on social media.
Rather than updating or correcting the piece, the article — originally titled, "Is Priyanka Chopra and Nick Jonas' Love for Real?" — has been replaced with a staff byline and a new headline: "Editor's Note: Priyanka Chopra and Nick Jonas."
"Upon further editorial review, we found this story did not meet our standards," the outlet said in a statement placed where the body of the article was. "We've removed it and apologize."
In the original piece, The Cut's Mariah Smith argued that Chopra tricked singer Nick Jonas into a relationship so she could boost her prospects in the entertainment industry.
"At times, marriage can be a beautifully wonderful union that warms even the coldest of hearts, but sadly, this union evokes no such feeling," Smith wrote. "All Nick wanted was a possible fling with Hollywood's latest It Woman, but instead he wound up staring straight at a life sentence with a global scam artist."
Joe Jonas, brother of Nick Jonas and a former band member, was quick to condemn the piece on social media, tweeting that it was "disgusting."
"@TheCut should be ashamed to have someone write such evil words," he added. "What Nick & Pri have is Beautiful Love."
This is disgusting. @TheCut should be ashamed to have someone write such evil words. What Nick & Pri have is Beautiful Love. Thank u, Next. https://t.co/G3hvXmhm9O

— J O E J O N A S (@joejonas) December 5, 2018
[image via screengrab]
Have a tip we should know? tips@mediaite.com