New York Newspaper Under Fire After Publishing Names, Addresses Of Gun Permit Holders
NY Newspaper Under Fire After Publishing Names, Addresses Of Gun Permit Holders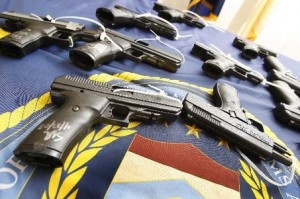 A local New York newspaper is making headlines itself after publishing a map with names and addresses of those who hold gun permits in a few suburban counties. The move quickly drew criticism from gun rights advocates.
The Journal News, in a piece entitled "The gun owner next door: What you don't know about the weapons in your neighborhood," noted that names and addresses of handgun permit holders can be acquired through Freedom of Information Law requests. But officials in three counties (Westchester, Rockland, and Putnam) "maintain the public does not have a right to see such things as the specific permits an individual has been issued, the types of handguns a person possesses or the number of guns he or she owns — whether one or a dozen."
Accompanying the story were maps of Westchester and Rockland counties (Putnam is still processing the request) with markers indicating gun permit holders. Clicking on them displays the name and address. The paper noted, "Being included in this map does not mean the individual at a specific location owns a weapon, just that they are licensed to do so."
Online backlash ensued. Breitbart.com deemed it "intimidation," while Town Hall's Katie Pavlich called it "unforgivable." Media Research Center's Dan Gainor advised contacting advertisers.
Conservative talk radio host Tammy Bruce tweeted: "The other reason why what lohud.com did is so dangerous? It reveals to criminals which homes *are not* protected by a firearm."
Instapundit asked, "I guess nobody could object to people putting the newspaper staff's addresses on the Web now, right?"
Commenters on the story expressed similar sentiments of surprise and outrage. The Journal News, aware of the criticism, responded by noting all information was legally obtained from publicly available records.
Editor and Vice President/News CynDee Royle said: "We knew publication of the database would be controversial but we felt sharing as much information as we could about gun ownership in our area was important in the aftermath of the Newtown shootings."
Have a tip we should know? tips@mediaite.com