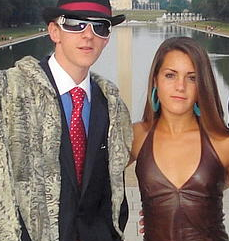 The New York Times is eating some ACORN crow today. After being slow to cover the ACORN debacle back in September (also known as the time before the Times considered Fox News stories real news) the paper proceeded to report on a number of occasions that James O'Keefe had appeared at the ACORN offices dressed as a pimp, which was apparently not the case (Media Matters points out it was one of the few things Andrew Breitbart also failed to correct about the story). Supporter of the now defunct ACORN feel that the mis-reporting on the Times part helped contribute to the failure of the organization because what kind of idiot wouldn't be suspect of a person dressed as O'Keefe was reported to be.
Times Ombudsman Clark Hoyt took the paper to task on both accounts this weekend. And voila! Today there appears this correction:
Several articles since September about the troubles of the community organizing group Acorn referred incorrectly or imprecisely to one aspect of videotaped encounters between Acorn workers and two conservative activists that contributed to the group's problems.

In the encounters, the activists posed as a prostitute and a pimp and discussed prostitution with the workers. But while footage shot away from the offices shows one activist, James O'Keefe, in a flamboyant pimp costume, there is no indication that he was wearing the costume while talking to the Acorn workers.

The errors occurred in articles on Sept. 16 and Sept. 19, 2009, and on Jan. 31 of this year. Because of an editing error, the mistake was repeated in an article in some copies on Saturday.
The correction may be a case of too little, too late considering ACORN was officially shuttered yesterday. That said, I suspect, whether they admit it or not, the Times will be taking Breitbart a tad more seriously from here on out.
Related: Big Win For 'Big Government': ACORN Officially Calls It Quits
Have a tip we should know? tips@mediaite.com