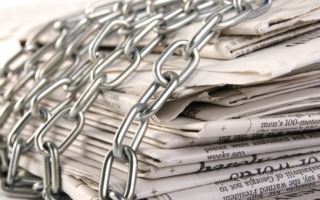 So, as I've been saying ever since The New York Times announced its digital paywall more than a year ago, the newspaper of record today announced that it was raising the wall even higher, cutting the number of articles than can be read on its site for free from 20 to 10.
This was no doubt done to increase its number of paying customers online, which is now about half a million, or half of its offline, paper subscribers. And that's certainly a good start. But where will it lead?
Today's announcement suggests that a time will soon come when nothing of The New York Times will be available for free online. This newspaper, in other words, will have thoroughly rejected the model of broadcast media, which made radio and then television the media with the biggest audiences and impact in the 20th century. Free content has already propelled The Huffington Post to an Alexa.com rank of 84 (based on number of hits and incoming links), surpassing The New York Times at 98, as free online media continue to surge in impact in the 21st century.
If The New York Times continues on this path of requiring payment for its content, rather than devising ways of earning revenue through it advertising, it will continue to move from being the newspaper of record to the newspaper of the past.
Which is not the worst thing in the world. Legitimate theater continues in an age of movies and television, but the stage has long since lost the audiences it commanded in 1900.
Paul Levinson, PhD, is Professor of Communication & Media Studies at Fordham University in NYC. His nonfiction books, including The Soft Edge (1997), Digital McLuhan (1999), Realspace (2003), Cellphone (2004), and New New Media (2009), have been translated into ten languages. He reviews television in his InfiniteRegress.tv blog, and was listed in The Chronicle of Higher Education's "Top 10 Academic Twitterers" in 2009. Follow him @PaulLev
Have a tip we should know? tips@mediaite.com