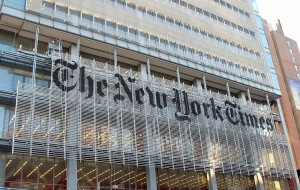 The time has come. Maybe. For months now rumors have been circulating that the financially strapped New York Times was considering charging for content in some form or other. At one point they were even floating some fairly creative solutions. It's a topic that's been much discussed in media circles particularly as the economy took a heavy and fast toll on the media world. For a while there it felt like it was the only topic being discussed — I certainly chattered about it a lot at FishbowlNY (my guess was usually that it would happen before the year was out). Now it looks like they may be ready to make it a reality. Per Bloomberg:
New York Times Co. said in a survey of print subscribers that it's considering a $5 monthly fee for access to its namesake newspaper's Web site.

In the survey, Times Co. also asked whether subscribers would be willing to pay a discounted fee of $2.50 a month for Web access. The Web site, nytimes.com, is currently free. Catherine Mathis, a spokeswoman for New York-based Times Co., confirmed the survey in an e-mail.
What is arguably most amazing about this decision is that it took so long! All the news that's fit to print for free online seemed reasonable back when it was merely a digital version of the print edition, with infrequent updates. However, the premise has become increasingly ridiculous now that the NYT.com has become so many people's direct source (I just polled the office space here and not one person had a paper edition, which costs $2.00 at the newsstand each day).
How this will affect the Times relevance online remains to be seen. Links are the backbone of website traffic and one of the reasons the Times dropped its TimeSelect firewall was that it greatly reduced the relevance of its columnists. However, with so many major newspapers struggling to stay alive one imagines the Times shifting to a paid content model could easily serves as a green light for many others to do the same. But panic not, NYT.com devotees, according to Times Co. head of digital operations Martin Nisenholtz the paper will probably "begin charging users to access its news on mobile devices before it does so on its Web sites."
Have a tip we should know? tips@mediaite.com