The New Yorker is Sitting on Unreleased Recordings of the Scaramucci Meltdown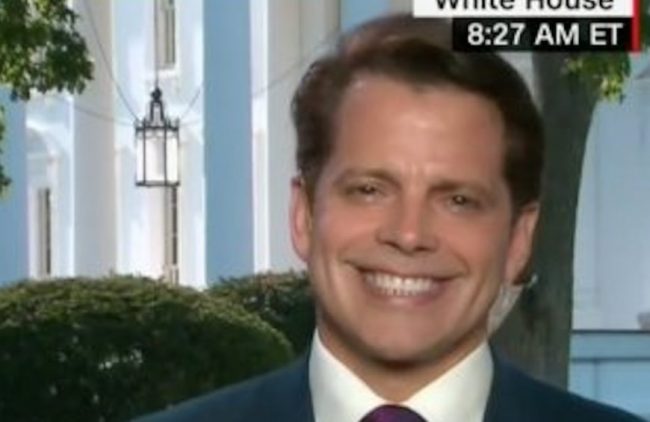 Yesterday, New Yorker writer, Ryan Lizza published an extraordinary account of a call he had with White House Communications Director Anthony Scaramucci.
During the call, the newly installed comms chief denounced — in very vulgar terms — his chief West Wing rivals, Chief of Staff Reince Priebus and White House Chief Strategist Steve Bannon.
On CNN's New Day, Lizza said there were recordings of the call and — get this — the magazine is apparently sitting on even more stuff which the two men agreed would be officially "off the record."
The news was buried in the bottom of Axios' indispensable morning email.
Per Axios:
A New Yorker spokesperson tells us: "Late in the conversation, Scaramucci requested that one part be off the record, and we respected that. The rest was on the record. Today (Thursday), Ryan and Scaramucci had another conversation and Scaramucci was clear and agreed that the conversation was on the record."
This, of course, is incredibly tantalizing given what was released.
Here's a taste:
"Reince is a fucking paranoid schizophrenic, a paranoiac," Scaramucci said. He channelled Priebus as he spoke: " 'Oh, Bill Shine is coming in. Let me leak the fucking thing and see if I can cock-block these people the way I cock-blocked Scaramucci for six months.' " (Priebus did not respond to a request for comment.)
Scaramucci, never denied saying any of this, but intimated on Twitter that he had assumed it was off the record. On New Day this morning, Lizza countered that he had recordings of Scaramucci acknowledging exactly the opposite to him on the phone.
Of course — publicly, Scaramucci continues to have no trouble playing the victim. Slamming the very journalists you desperately crave coverage from? Where have we seen that before?
I made a mistake in trusting in a reporter. It won't happen again.

— Anthony Scaramucci (@Scaramucci) July 28, 2017
No wonder his White House nick-name is "mini-me"
[image via screengrab]
Have a tip we should know? tips@mediaite.com