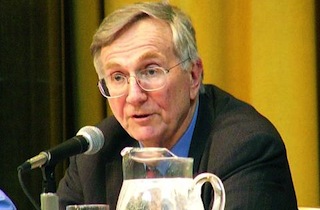 In an interview with the Guardian's Media Blog, Pulitzer Prize winner and longtime New Yorker writer Seymour Hersh excoriated the journalism profession, and accused them of failing to investigate the true story behind the "big lie" of Osama bin Laden's assassination.
"Nothing's been done about that story, it's one big lie, not one word of it is true," said Hersh, who is including a chapter about the incident in his forthcoming book about on national security.
Hersh said the majority of the information released about the Navy Seals raid on bin Laden's compound in Abottabad has been doctored by the United States.
"The Pakistanis put out a report, don't get me going on it," Hersh said. "Let's put it this way, it was done with considerable American input. It's a bullshit report."
Hersh, who won a Pulitzer for uncovering the My Lai massacre, also had some tough love for his own industry.
"It's pathetic, they are more than obsequious, they are afraid to pick on [Obama]," Hersh said. "I'll tell you the solution, get rid of 90% of the editors that now exist and start promoting editors that you can't control…I would close down the news bureaus of the networks and let's start all over, tabula rasa. The majors, NBCs, ABCs, they won't like this—just do something different, do something that gets people mad at you, that's what we're supposed to be doing."
He did have high hopes for post-Edward Snowden journalism. "Editors love documents," he said. "Chicken-sh*t editors who wouldn't touch stories like that, they love documents, so [Snowden] changed the whole ball game."
[h/t Guardian]
[Image via Raw Story]
——
>> Follow Evan McMurry (@evanmcmurry) on Twitter
Have a tip we should know? tips@mediaite.com