New Yorker's Jane Mayer Responds to Criticism of Fox News Report: 'Complaint is Unfounded'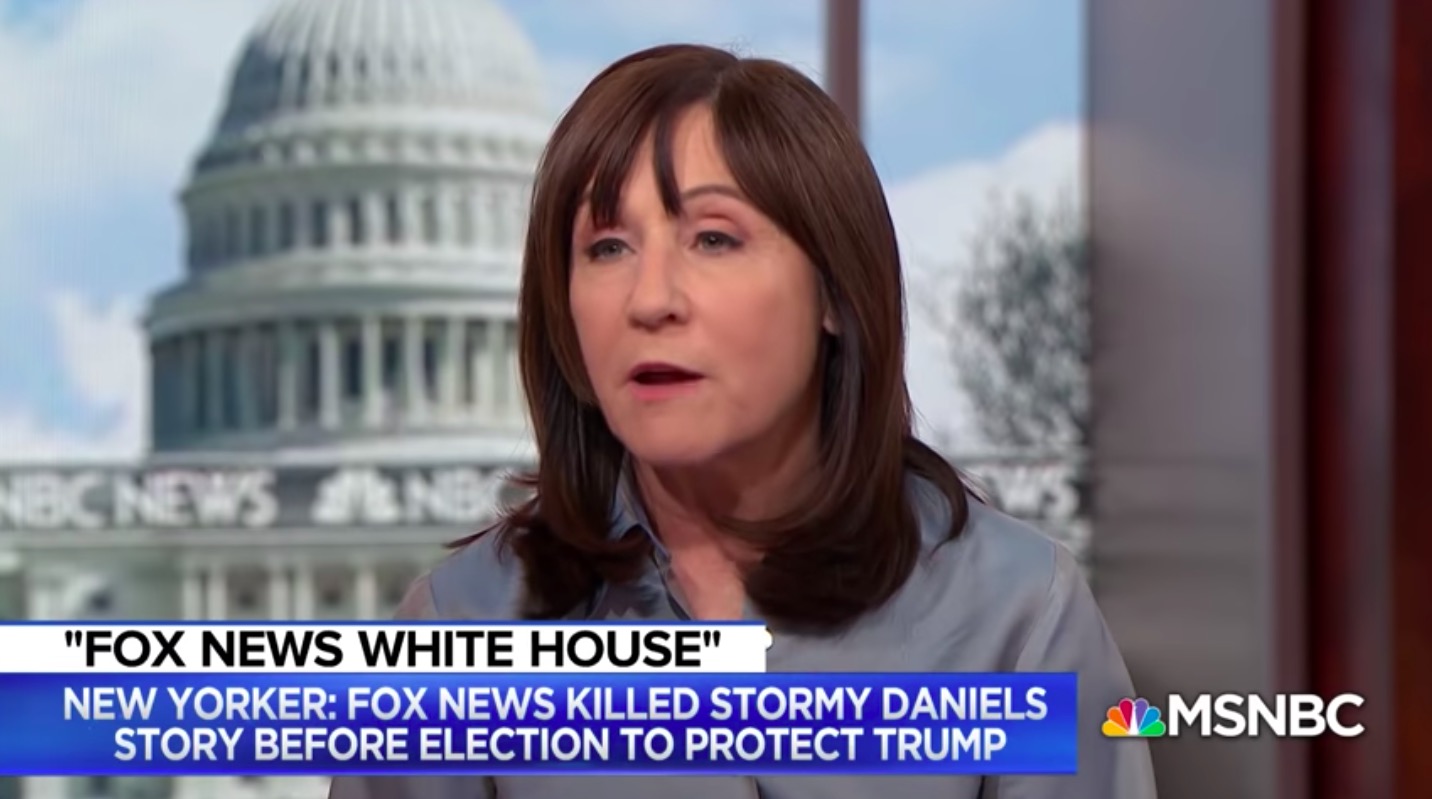 New Yorker reporter Jane Mayer is standing by a significant part of her big Fox News report after it was called into question.
Mayer reported, as part of her massive investigation into the network, that a story from Diana Falzone on the Trump-Stormy Daniels affair was spiked by Fox News:
Falzone's story didn't run—it kept being passed off from one editor to the next. After getting one noncommittal answer after another from her editors, Falzone at last heard from LaCorte, who was then the head of FoxNews.com. Falzone told colleagues that LaCorte said to her, "Good reporting, kiddo. But Rupert wants Donald Trump to win. So just let it go." LaCorte denies telling Falzone this, but one of Falzone's colleagues confirms having heard her account at the time.
Ken LaCorte, who ran editorial at Fox News digital from 2006 to 2616, spoke to Mayer for the report and responded to it in a piece for Mediaite in which he addressed why he stopped the story from running:
It included: a two-word confirmation – "it's true" – from an unnamed Daniels "spokesperson," an anonymous quote from a friend who said she'd dropped off Daniels to meet Trump at a hotel, and quotes from The Dirty owner, who said that he had spoken to Daniels in 2011 and she had confirmed the affair.

It lacked: any mention of payments, a hush money contract or any corroborating evidence beyond the two secondhand accounts.

On top of that, Stormy Daniels herself had publicly denied the whole thing, a denial she would maintain for another year.

The story wasn't close to being publishable, and my decision to hold it was a no-brainer. I didn't do it to help Trump and never said nor implied otherwise. It was such an easy call that I never even informed my direct boss or anyone in management about it.
"In her 11,635 word piece, she didn't find room to mention the paucity of evidence we had, the conflicting statements nor the other outlets which responded exactly as we did," LaCorte added. He also again denied the "Rupert wants Donald Trump to win" quote.
Mayer responded on Twitter to say the complaint from LaCorte is "unfounded" and that she has three sources corroborating Falzone's account:
This complaint is unfounded. I interviewed LaCorte extensively, quoted him 4 times, included his assertion that Falcone's story "hadn't passed muster." Any claim I didn't tell his side is false. Falzone can't defend herself – she's under an NDA, but 3 sources corroborate her. https://t.co/YPswtXjnao

— Jane Mayer (@JaneMayerNYer) March 8, 2019
UPDATE –– 7:30 pm ET: Mayer followed up with a statement from Falzone's lawyer demanding that she be released from her non-disclosure agreement after "false and defamatory statements being made by Fox News' agent Ken LaCorte and Fox News employee Howard Kurtz":
New: Fox reporter Diana Falzone's lawyer Nancy Erica Smith has issued a statement demanding that Fox release her from her NDA so she can talk about getting the Stormy Daniels story before the 2016 election.

— Jane Mayer (@JaneMayerNYer) March 9, 2019
Nancy Erica Smith statement:
1. In light of the false and defamatory statements being made by Fox News' agent Ken LaCorte and Fox News employee Howard Kurtz, Diana Falzone asks Fox News, and specifically Rupert Murdoch, to release her from her non-disclosure agreement on the

— Jane Mayer (@JaneMayerNYer) March 9, 2019
2. (statement from Falzone lawyer continued)
topic of her reporting in October of 2016 regarding Donald Trump paying hush money to Stormy Daniels, because the public has the right to the truth.

— Jane Mayer (@JaneMayerNYer) March 9, 2019
[image via screengrab]
Have a tip we should know? tips@mediaite.com
Josh Feldman - Senior Editor