Playing off of a popular quote by Toni Morrison who described President Bill Clinton as the
"first black president," Newsweek published a cover article by Andrew Sullivan who described the President as "the first gay president" and accompanied that piece with art that shows President Barack Obama with a multi-colored halo above his head.
RELATED: Top Republican Pollster Advises Party To Embrace Gay Marriage
In response to Obama's Tuesday interview with ABC in which he embraced the issue of gay marriage as a concept, Newsweek's May 21 issue described Obama the country's "first gay president."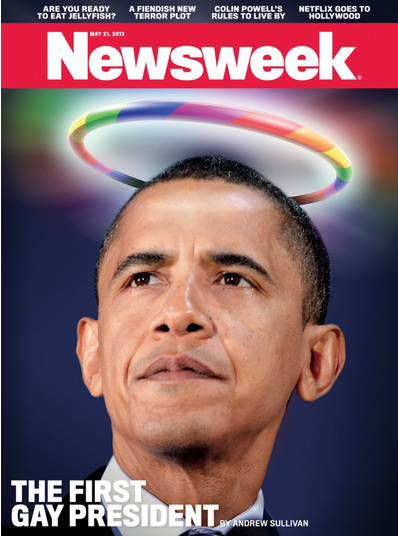 In a blog post, earlier this week on The Daily Beast, Sullivan wrote that Obama will benefit from his embrace of gay marriage. Sullivan wrote that Obama "will be looking to the future generations as his opponent panders to the past."
I do not know how orchestrated this was; and I do not know how calculated it is. What I know is that, absorbing the news, I was uncharacteristically at a loss for words for a while, didn't know what to write, and, like many Dish readers, there are tears in my eyes.
Sullivan continued, saying that while the announcement had no tangible policy implications, Obama's embrace of gay marriage will have many intangible benefits for millions of gay Americans:
The interview changes no laws; it has no tangible effect. But it reaffirms for me the integrity of this man we are immensely lucky to have in the White House. Obama's journey on this has been like that of many other Americans, when faced with the actual reality of gay lives and gay relationships.
h/t Politico
Have a tip we should know? tips@mediaite.com