Newt Gingrich To Laura Ingraham: 'I Don't Know What The Purpose Of CPAC Is Anymore'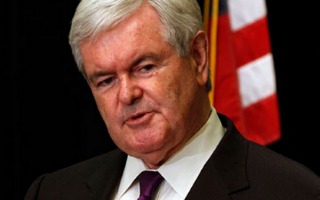 Former House Speaker Newt Gingrich joined conservative radio host Laura Ingraham on her Wednesday show where he addressed the variety of controversies that the Conservative Political Action Conference has courted over the past month. Gingrich, who is slated to address the conference this year, said he was unclear as to what the purpose of the event was anymore.

RELATED: GOP Rep. Explodes At CPAC: Not Inviting Chris Christie Shows They Have A 'Suicidal Death Wish'
Ingraham asked Gingrich for his thoughts on CPAC deciding not to invite New Jersey Gov. Chris Christie or to allow the gay conservative group GOPround to sponsor the event.
"I don't know what the purpose of CPAC is anymore," Gingrich replied. "CPAC at one time was sort of the militant wing of the conservative movement. It was a place where Ronald Reagan gave his famous speech about bold colors, not pale pastels. I don't know what CPAC is today."
It draws lots and lots of people, particularly students. It gets a fair amount of attention in the media. But I don't know how they define who gets to come in and who doesn't get to come in. And my sense is the board is not very open and not very clear about, you know whether its personality decisions or what they're thinking.
Gingrich was particularly opposed to CPAC's decision not to invite Gov. Chrisite. "You can say first Christie wasn't invited for it, but you could also frankly look at his record on controlling spending and reforming New Jersey government and say, 'Well, he has a story to tell that's pretty interesting,'" Gingrich added.
"I thought hugging Obama was a bit much during Sandy," the Speaker continued. "But, on the other hand, when you look at the level of damage that had been done to the Jersey Shore, you can understand how emotional he was at that time."
Listen to the clip below via The Laura Ingraham Radio Show:
h/t The Daily Caller
> >Follow Noah Rothman (@NoahCRothman) on Twitter
Have a tip we should know? tips@mediaite.com