NFL Ratings Woes Continue as Sunday Night Football Posts 9.0 Overnight, Lowest in Five Years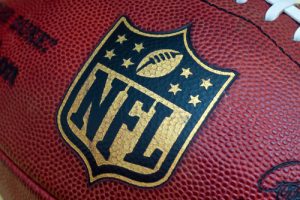 The 2016 NFL ratings decline continued Sunday, with this week's Colts-Texans game down 38% from last year's Week 6 Sunday Night Football match-up — according to the Sports TV Ratings industry tracking site. The game notched a 9.0 overnight rating for NBC.
Several factors must be taken into account to give context to this low number: First, the game took place opposite the highly viewed National League Championship baseball series between the Chicago Cubs and LA Dodgers, which drew Fox Sports 1's largest audience ever. Fox Sports executive Michael Mulvihill reports that the baseball game posted a 5.0 rating.
5.0/8 for Game 2 of the NLCS. Top FS1 overnight ever and likely to surpass Cubs-Giants Game 4 to become new most-watched FS1 event ever.

— Michael Mulvihill (@mulvihill79) October 17, 2016
Also, last year's week 6 Sunday Night Football game featured the Patriots and the Colts. Tom Brady's star power exceeds, by far, that of any player on the field last night for the Colts or the Texans, two mediocre squads.
Still, 38% is an alarming drop. According to Deadline, it's the lowest overnight rating for Sunday Night Football since Oct. 23, 2011. And Sunday Night Football has posted significant declines throughout the season.
All was not lost for the NFL on Sunday. The Week 6 late game on Fox posted a 17.4 overnight, 12% higher that last year's Week 6 late game on CBS, per Mulvihill.
17.4 overnight for yesterday's late NFL game on FOX. Highest NFL overnight of the season and +12% better than Week 6 late game last year.

— Michael Mulvihill (@mulvihill79) October 17, 2016
It should be noted that yesterday's featured game was Cowboys-Packers, two top ratings draws. Last year's game was Chargers-Packers, with the Chargers having nowhere near the same national cache as the Cowboys.
[image via Dean Bertoncej – ShutterStock]
–
Follow Joe DePaolo (@joe_depaolo) on Twitter
Have a tip we should know? tips@mediaite.com
Joe DePaolo - Senior Editor