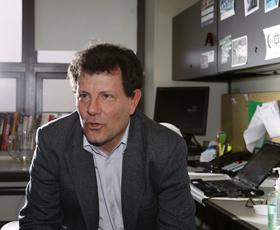 In downtown Manhattan's Zuccotti Park The New York Times' Nicholas Kristof sees the makings of a Tahrir Square. "Crowds are still tiny by protest standards" and "no bullets are whizzing around, and the movement won't unseat any dictators," he reports in his most recent Sunday op-ed column. But in spirit, in function, and in practice, he found, the two movements, half a world a part, are not all that different.
"After flying around the world this year to cover street protests from Cairo to Morocco, reporting on the latest 'uprising' was easer: I took the subway," Kristof begins, fancying himself a man who knows a serious protest when he sees one. What he found, upon arriving at Occupy Wall Street's downtown "revolutionary camp" was mostly just that: while he admits that "occasionally a few even pull off their clothes, which always draws news cameras," he seems to believe that the protesters are, in fact, serious.
As he writes:
But there is the same cohort of alienated young people, and the same savvy use of Twitter and other social media to recruit more participants. Most of all, there's a similar tide of youthful frustration with a political and economic system that protesters regard as broken, corrupt, unresponsive and unaccountable.
This is not to say, however, that he thinks that they will be successful as the young Egyptians fighting in Tahrir Square were. At times, his piece takes an almost belittling tone towards the movement. He is surprised by their "dazzling" internet savvy and "impressive" organization — so impressive, in fact, they've made it possible for supporters "anywhere in the world to go online and order pizzas (vegan preferred) from a local pizzeria that delivers them to the square" — but he faults them for a lack of demands, and devotes the later part of his column to offering advice as to how to "channel their amorphous frustration into practical demands."
Whether or not they actually lack a message remains up for debate, and coming comparisons between Tahrir Square and Zuccotti Park, I suspect, will have to include the arrest of journalists and perhaps over-zealous city officials. Kristof's assessment nonetheless offers credibility to the movement which seems unlikely to wane anytime soon.
Have a tip we should know? tips@mediaite.com