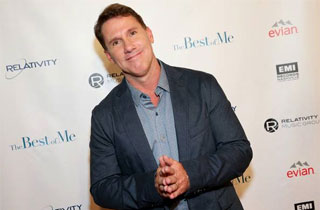 Nicholas Sparks, the man who taught a million sorority girls how to love, apparently can't keep love himself: The author of novels such as The Notebook, A Walk to Remember, Dear John, and a whole lotta other stuff that ruined marriages due to absurdly high expectations, plans on divorcing his wife of 25 years.
Sparks told People that he had recently separated from his wife, Cathy Sparks, due to reasons unknown. He then stressed that the two remained "close friends with deep respect for each other and love for our children," and asked for privacy during this situation for the sake of their five children.
This may have nothing to do with the split, but the timing is weird: Recently, Sparks sued for making racist and homophobic remarks at the school he founded in North Carolina, allegedly saying things like "Black students are too poor and can't do the academic work" and tacitly supporting bullies calling for a "homo-caust" of the gay students.
Sparks denied the allegations.
But in any case, Sparks lied to us: True love never existed and we're all going to die alone, and screw the sand dunes and lakes at sunset.
Seriously, read this passage from The Notebook:
"I am nothing special; just a common man with common thoughts, and I've led a common life…But in one respect I have succeeded as gloriously as anyone who's ever lived: I've loved another with all my heart and soul; and to me, this has always been enough."
Then realize it's all a lie. We're sorry, but this is how the world works.
[People Magazine]
[Image via Nicholas Sparks/Facebook]
— —
>> Follow Tina Nguyen (@Tina_Nguyen) on Twitter
Have a tip we should know? [email protected]