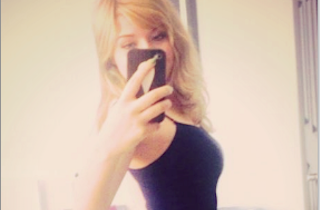 It's a right of passage that every child star must go through, the moment where they stop being purely an object of tween affection and take messy adulthood into their own hands. Miley Cyrus twerked on MTV, Justin Bieber got arrested for drunk driving a yellow Lamborghini. And now Jennette McCurdy, co-star of Nickelodeon's recently-canceled Sam & Cat, has posted a confessional essay on Reddit.
"I am not a role model," she wrote in a message to her young fans. "I don't claim to be, I don't try to be, and I don't want to be."
McCurdy's note was a response of sorts to a long Facebook message her co-star Ariana Grande posted last week after news broke that their popular kids show had been canceled. Grande talked about how she looked up to her own character on the show, trying to be more like her, even though it prevented her from developing her own personality.
In contrast, McCurdy wrote on Reddit, "I realize that to attempt to live up to the idea of being a role model is to set myself up for foregone failure. Sure, I've made some mistakes, but even if I hadn't, people would have found invisible ones. This world is one seemingly most keen on judgment and negativity, despite all the hearts and smiley emoticons."
Speaking directly to those who would look at her as a role model, McCurdy wrote:
"In order to be thought of as a real, true role model, I believe you have to know a person and their actions, inside and out. Calling a celebrity a role model is like calling a stranger a role model. The knowledge you have of a celebrity is no more than a caricature drawn by media tastemakers specializing in selling you an image you're dying to buy. It's good to have heroes, but you have to look for them in the right places. They say don't look for true love in a bar, well I say, don't look for role models on screens."
The post can also be read as a response to backlash she received for posting racy selfies on Instagram that do not necessarily line up with the Nickelodeon image she put out to the world for so many years. Responding to one such complaint on Reddit, she wrote, "I don't know where the connotation got destroyed, but nothing about an adult woman taking a sultry picture and being proud of a body she worked hard for should equal 'Miley Cyrus.'"
But just as Cyrus made a deliberate effort to break from her Hannah Montana persona by swinging naked on a "Wrecking Ball," McCurdy is preemptively telling the world she's ready to be more than a Nickelodeon star.
[Photo via Reddit]
— —
>> Follow Matt Wilstein (@TheMattWilstein) on Twitter
Have a tip we should know? tips@mediaite.com