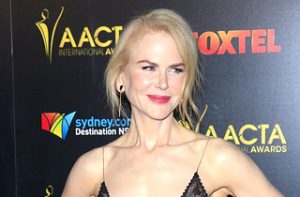 While lots of celebrities are still hating on Donald Trump, Nicole Kidman has had enough. While on the red carpet for her new film Lion, she spoke to UK TV host Victoria Derbyshire and said, "[Trump is] now elected and we, as a country, need to support whoever is the president. That is what the country is based on. And however that happened, it happened, and let's go."
It's a completely different sentiment than many of her fellow celebrities. Meryl Streep gave an anti-Trump speech at the Golden Globes over the weekend, and this week several stars got together for a reading of Gloria Gaynor's "I Will Survive" in advance of Trump's inauguration in a video that's made its way around the web.
Kidman is right. Trump is going to be our President, and we've all got to hope that he does do well. Having said that, she does have dual citizenship in both the United States and Australia so if things do go south, she can always…go south.
[image via Helga Esteb/Shutterstock.com]
Have a tip we should know? [email protected]