Nikki Haley's Sudden Resignation as UN Ambassador Sends Shockwaves, Triggers Speculation: 'Is She Anonymous?'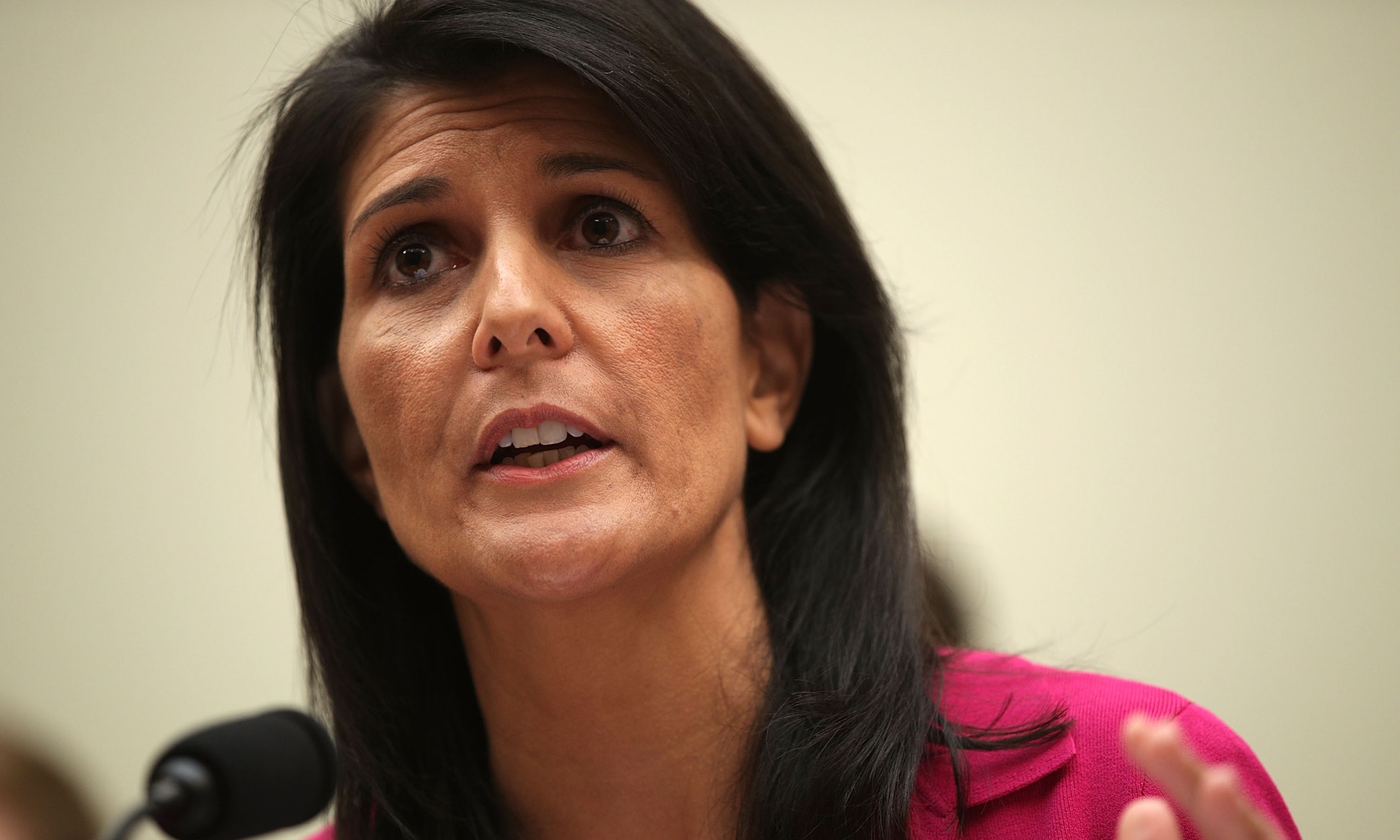 The political universe was electrified on Tuesday by the news that Nikki Haley is leaving her post as U.S. Ambassador to the United Nations.
Axios reports that Haley handed her resignation to President Donald Trump last week, much to the shock of various figures in the administration. Multiple news outlets have corroborated the report now, and Trump seemed to tease the news by tweeting about a "big announcement" in the next few minutes.
Big announcement with my friend Ambassador Nikki Haley in the Oval Office at 10:30am.

— Donald J. Trump (@realDonaldTrump) October 9, 2018
Since Haley is often viewed as one of the most important and respected figures in the Trump administration, the news comes as a jolt to political observers. The first reactions on Twitter have been a combination of jokes, analysis of the odd timing, and concern about what it means now that the White House has lost one of its most moderating individuals. There's also been speculation that Haley was the author of the anonymous New York Times op-ed, though Haley penned a column denying she wrote that Times piece.
Nikki Haley now resigned. HR McMaster forced out. Only Jim Mattis remains from the Nat Sec leadership team Axis of Adults.

— John Avlon (@JohnAvlon) October 9, 2018
A diplomatic lodestar.

— Josh Campbell (@joshscampbell) October 9, 2018
Now "Former" Ambassador Nikki Haley.

Moves her to the top of my list of suspects in that anonymously authored @nytimes Op-Ed.. in my opinion. https://t.co/HxWZYc872q

— Eric Bolling?? (@ericbolling) October 9, 2018
There is no way Haley resigns right now unless there is a bigger story behind it. This is weird timing and totally out of the blue.

— Bradley P. Moss (@BradMossEsq) October 9, 2018
Nikki Haley has resigned. Unclear why. Is she Anonymous? https://t.co/X4y3jkCU7O

— Philippe Reines (@PhilippeReines) October 9, 2018
I guess she ran out of hearts to bless.

— Jim Geraghty (@jimgeraghty) October 9, 2018
Interim UN Ambassador Kanye West

— Dave Itzkoff (@ditzkoff) October 9, 2018
wow, can't believe Nikki Haley is going to be defensive coordinator at Oklahoma

— Alex Griswold (@HashtagGriswold) October 9, 2018
Terrible news. https://t.co/Lv2mUvTtX5

— David French (@DavidAFrench) October 9, 2018
— Ben Shapiro (@benshapiro) October 9, 2018
Sad to see @nikkihaley, one of the administration grown-ups, leaving. Would be great if this is a prelude to a primary challenge! We definitely need a mainstream conservative to challenge Trump and she is eminently qualified.

— Max Boot (@MaxBoot) October 9, 2018
[Image via screengrab]
— —
>> Follow Ken Meyer (@KenMeyer91) on Twitter
Have a tip we should know? tips@mediaite.com