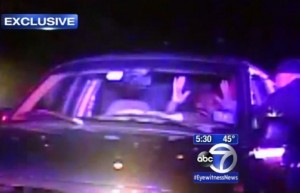 Two police officers who violently beat and accused a motorist of attacking them were convicted of misconduct following their own dashcam's revelation that the motorist had his hands raised during the traffic stop.
According to the Associated Press, Sean Courter and Orlando Trinidad of the Bloomfield Police Department in New Jersey were found guilty of official misconduct, tampering with and falsifying public records, lying to authorities and conspiracy on Thursday. Both face a minimum prison sentence of five years, though the sentencing hearing is scheduled for January.
Courter and Trinidad originally claimed that Marcus Jeter, an African-American, hit Trinidad and attempted to take Courter's gun during 2012 traffic stop on the Garden State Parkway. Following his violent arrest, which was evident from one of the officer's dash cameras, Jeter was later charged with aggravated assault and resisting arrest.
Yet the second dash camera video, which Jeter's legal team acquired via an open records request, revealed that the motorist had cooperated with Courter and Trinidad throughout the traffic stop. At least, up until the moment of his arrest, Jeter had his hands up in the air the entire time. A third officer who was present at the scene, Albert Sutterlin, plead guilty to falsifying records in 2013.
"They accused Mr. Jeter of criminal acts that led to him being charged and indicted," said assistant prosecutor Berta Rodriguez. "He was facing five years in prison. But for the dash camera in the second police vehicle, he might be in prison today."
The incident stemmed from a verbal argument Jeter had with his girlfriend. He left the scene voluntarily after Courter arrived to calm things down, but the officer followed Jeter onto the Parkway and subsequently refused to exit his vehicle when stopped. That's when Courter and Trinidad broke a window and dragged Jeter out.
[h/t Associated Press]
[Image via screengrab]
— —
>> Follow Andrew Husband (@AndrewHusband) on Twitter
Have a tip we should know? tips@mediaite.com