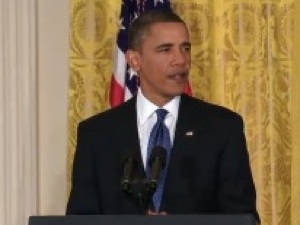 Despite being front-page news that a federal judge found the Don't Ask, Don't Tell policy barring gay and lesbian servicemembers was unconstitutional, President Obama was not asked a single question during today's press conference about the administration again losing a gay rights case in federal court.
While there are plenty of issues facing the White House, the lack of questions about DADT comes as some are noting that the Obama administration has ignored the gay and lesbian press generally and has avoided answering questions about DADT, same-sex marriage, and an employment non-discrimination bill that would protect employees based on sexual orientation and gender identity.
In addition to no questions about the DADT ruling from last night, this was the first press conference since a court in California struck down California's ban on same-sex marriage based on constitutional grounds.
Kerry Eleveld, the Washington correspondent for The Advocate, tweeted after the press conference:
POTUS presser ending, no #dadt questions; Obama has yet to take a single question from #lgbt press since being elected.
Eleveld is the only full-time member of the White House press corps representing an LGBT press outfit and she often asks questions of Press Secretary Robert Gibbs, but she's never gotten a question to Obama.  Obama has yet to offer an interview with the LGBT press during his administration.
The oversight becomes more of sore-point given Obama's willingness to take questions at press conferences from the African American and Hispanic media.  Today's presser featured a question from April Ryan of American Urban Radio Network, which has gotten questions in before during Obama's press conferences.
Obama mentioned Don't Ask, Don't Tell repeal during his State of the Union address but has largely been silent on LGBT issues in public. In July, White House staffers met with the LGBT press and bloggers in a first-of -its-kind meeting that included Melody Barnes speaking  with The Advocate, MetroWeekly, Washington Blade, Gay City News, Philadelphia Gay News, as well as the blogs Pam's House Blend, AmericaBlog, and Bilerico Project.
Although the White House has avoided LGBT issues, the lack of questions also means the press corps has failed to press the White House. There were 13 questioners at today's press conference and none took the opportunity to ask about a front-page story across the country.  But he called on two non-traditional press outlets–Haaretz for a question about the Middle East and AURN for a question about poverty–knowing the kind of question they would likely ask.
Have a tip we should know? tips@mediaite.com